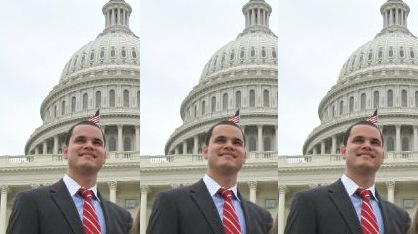 In today's Alumni Update, we take a minute to catch up with Jeremiah Perez, who graduated from the School of Fashion in 2003 with a BFA in Fashion Merchandising. After working in the fashion journalism industry in New York, he switched gears and began his career in politics. Read on to find out what he is up to now!
You graduated from the School of Fashion in 2003 with a BFA in Fashion Merchandising, and then moved to New York and worked as a freelance editor. What was that experience like?
Working in New York was fantastic. When I moved to New York I took writing classes at MediaBistro and networked like crazy to break into magazine journalism. I worked for InTouch Weekly, Glamour, MORE magazine, and was an intern for Glenda Bailey, the editor-in-chief of Harpers' BAZAAR. Working in the editor-in-chiefs' office was eye-opening. I learned a lot about the magazine business and the importance of relationships.
What prompted your move to the realm of politics?
I have always volunteered for non-profits since college and been politically active. I was freelancing in New York, and started Amputees in Motion – an activities based non-profit for people with limb loss. I am a below the knee amputee so I am passionate about raising awareness and helping the disabled community. Then a job opportunity in Washington, D.C. surfaced to be a national advocacy specialist for the Amputee Coalition where I worked to make sure amputees receive proper access to health care. I have been involved in politics and management consulting for years. And in 2011, I obtained my masters in Legislative Affairs from George Washington University.
Follow the jump to read more!
You were recently hired to work on President Obama's re-election campaign – Congrats! What advice would you give to students preparing for interviews?
I am the Operations Director for Organizing for America, Colorado – the President's grassroots re-election organization. My advice to students is to think of behavioral based experiences to prepare for an interview. For example, "Tell me about a time when you had a stressful situation and how you dealt with it?"
What is your job like, day-to-day?
I am responsible for the day-to-day operations and management of the overall state. There is a lot of collaboration and communication across the organization.
Do the worlds of fashion and politics ever overlap in your work?
The 2012 Presidential campaigns are in full swing. Twenty-three designers are applying their talent and their support for President Obama's "Runway to Win," an initiative for which they have created merchandise to help raise funds for the President's 2012 re-election campaign. In addition, the Obama campaign has a team of merchandisers that design and market campaign "swag" which include apparel, buttons, signs, mugs, messenger bags to martini glasses. You can check out the Obama store here.
What do you like to do on your downtime?
During the campaign there isn't much downtime but normally I play volleyball in a competitive league, ski and just learned to snowboard. I hope to explore the Colorado slopes when I get a chance!
Good luck in your new position Jeremiah!!
For more Alumni Updates, click here.