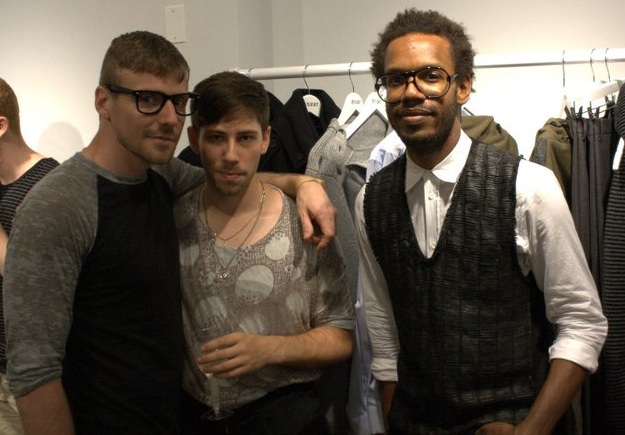 (Photo Credit: Billy Farrell Agency)
We wanted to catch up with B.F.A. Fashion Design Alumnus Eric Holbreich. In May 2010, he presented a women's wear collection with Camille Bucu at the annual San Francisco Graduation Fashion Show. Since then, he has lived and interned in Paris and is now in New York. He tells us all about his Parisian adventures and why NYC is the place for him!
How long where you in Paris and how was it being there?
Living in Paris is like living in museum. Everything is very coiffed, the buildings, the gardens the people. I was there for a year and I felt it was definitely enough for me! Living abroad made me realize how much of an American I am and want to be.
Tell us about your internship at BLESS?
BLESS is an amazing company that gave me so many opportunities and responsibilities as well as creating friendships that will last a life time. I felt I was part of their family and at the end of my internship that feeling was validated with a job offer; however, I knew that my life was not in Paris and I declined it. Also on the last day of work they told me I had an interview at Balenciaga at 7 and that I should go home and get my portfolio. That was a little insane! I went to the interview and got the job but I ended up getting deported because of Visa issues. I had a feeling I should be in New York anyway!
Read the entire interview after the jump!
When did you get to NYC and how do you like being there?
I got to NYC June 1 and I love it. New York has this amazing energy that encourages you to make something with your life. Everyone is always trying to do something to make a life for themselves.
What did you do at Tim Hamilton and when do you start Project 8?
I start Project 8 Aug 20th! I was working on the women's collection at Tim Hamilton and that was also a good experience for me. It helped me realize numerous things about myself and how I want to run my own company eventually.
Do you miss San Francisco?
San Francisco had a part in my life, and I think that part is over. I will remember the great times I had there and the relationships I created, but I don't see myself living there.
Favorite thing about NYC?
There are so many things to do and it's hard to realize that I have to slow my brain down and understand that I can't have everything at once. I am applying for a $30,000 scholarship in September and hopefully I'll get it and be able to start my own line – wouldn't that be amazing?!
Also, every night in NYC feels like Saturday night! Although, that can be a little dangerous.
Good luck Eric!