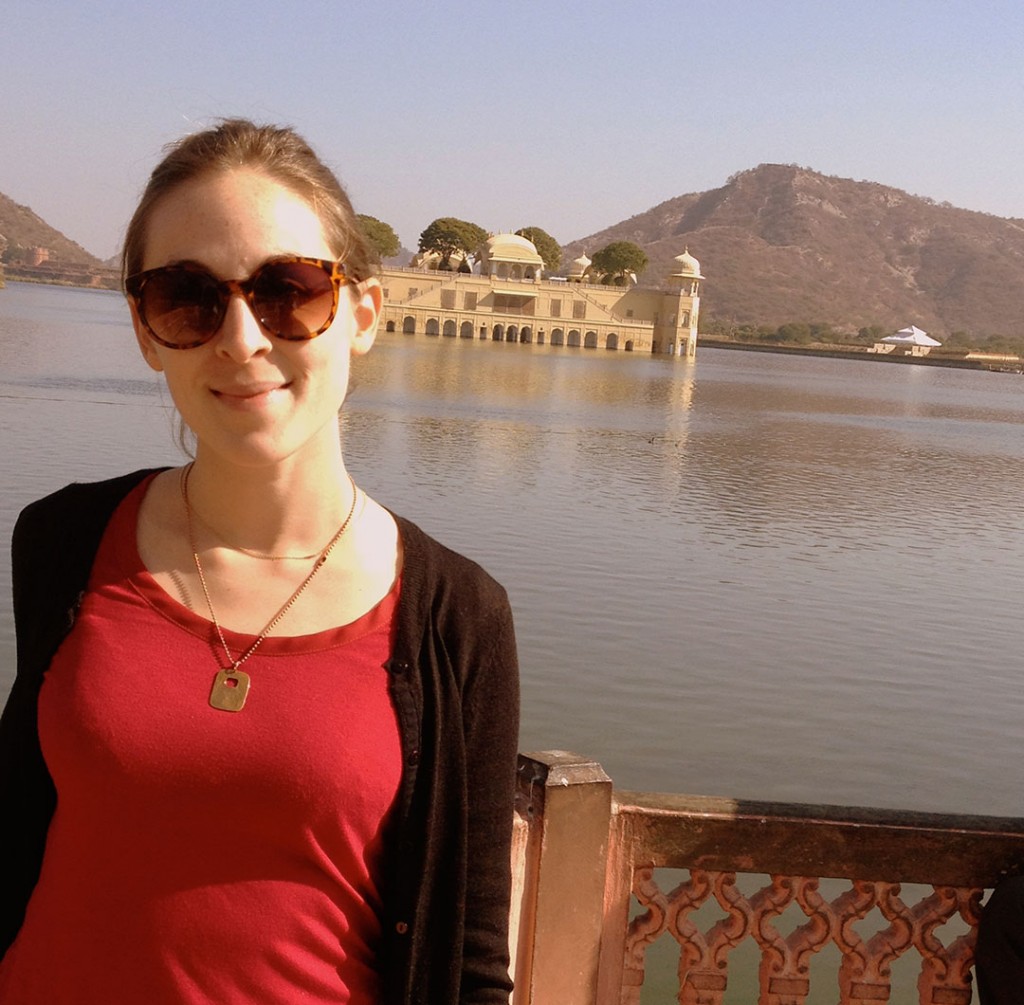 School of Fashion alumna, Hallie Gray.
It's no surprise that alumna, Hallie Gray, has a background in International Relations. An MFA graduate from the School of Fashion, Hallie has recently launched a site for her own line of home textile designs, graymarket. Hallie's unique patterns are the result of thorough research and dedication to preserving ancient traditions of print design and production. She has travelled the world (literally!) and today, she's sharing with Fashion School Daily the fruits (and fabric) of her labor.
What was your first "fashion" purchase? That one item you had to have?
I've always gravitated towards a pretty simple fashion aesthetic, but I do remember when I found the first pair of jeans that actually fit me (I have really long legs, so it was always a challenge): Citizens of Humanity. It's still my favorite jeans brand.
How would you describe your time as a student?
School was such a different experience before and then after mid-point reviews. It was amazing learning all the different textile techniques in the first year and a half, and it was so nice having a lot of freedom to experiment and see what techniques and aesthetics grabbed me. It was also nice focusing more in the last year, and creating a cohesive portfolio of textile collections that showed range but also gave a clear sense of who I was as a designer.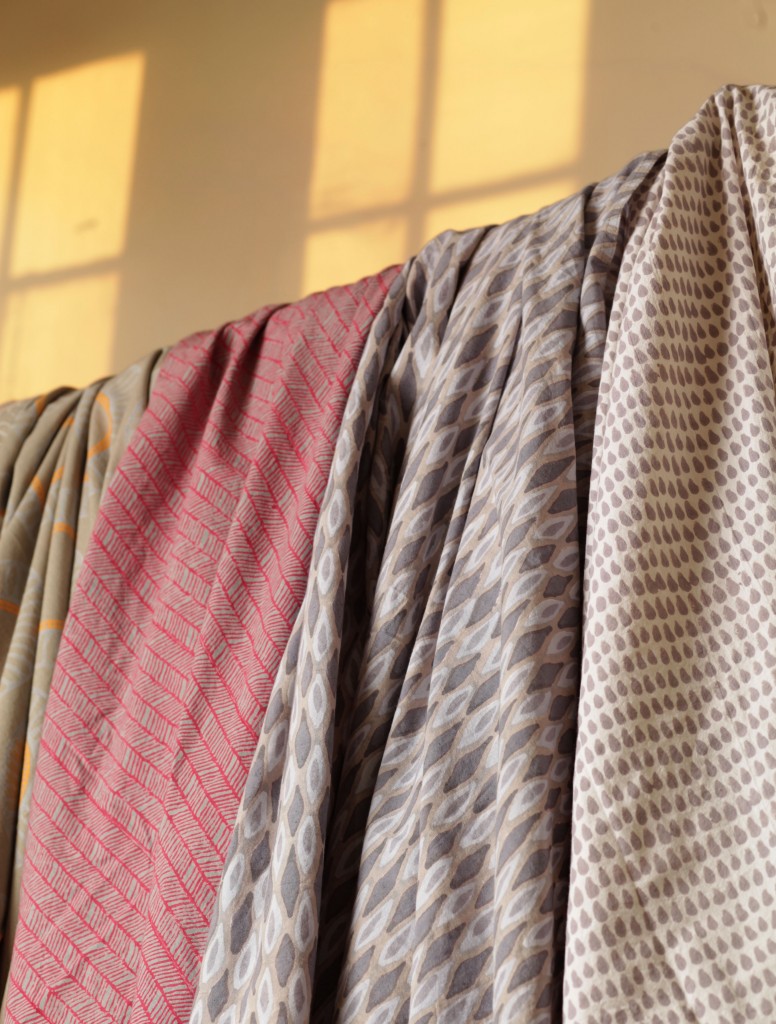 Samples of Hallie's textile designs.
What were the most important lessons you learned?
I felt lucky to have the heads of the School of Fashion work with me in terms of what I wanted for my specific experience within the school. I wanted to focus on textiles for the home, to really hone and develop my digital skills, and towards the end of school I realized I wanted to start my own business. I was able to take classes in digital media, Fashion Merchandising (for business) and also in fashion design, and this combination really enabled me to acquire the skill set I was looking for. I'm really glad I was proactive in creating the curriculum that worked best for me.
Tell me how graymarket came about. How did you build such global relationships with all of the international artisans you work with?
I have an undergrad degree in International Relations, and have always been really interested in textile techniques from around the world. I have traveled a lot, and have encountered amazing artisan groups that don't have a lot of exposure to a larger, more lucrative market. A lot of textile traditions in the developing world are in danger of becoming irrelevant domestically because of modernization and large scale production. A lot of textile products that are worn in India, for example, are made in China because it's so much cheaper. This means that hand-block printers doing their work by hand have to rely on a Western market who will pay more for the quality and story behind the textile.
[justified_image_grid row_height=300 height_deviation=25 ids="26427,26429,26430,26428″]

I feel really strongly about helping to preserve ancient traditions that are done by hand, and that was the foundation of graymarket. I emailed with a lot of different printing workshops in India, and went to visit them last January after graduating. I ended up finding the perfect workshop that is reliable, responsive, pays their workers fairly, and creates beautiful prints on high quality cotton. That's a hard combination to find! The other organizations- the weaving cooperative in Peru and the organization in Mumbai that did embroidery for my zippered pouches- are both non-profits that I heard about through friends. I'm always looking for more artisan cooperatives to collaborate with.
What advice would you give to students?
I would say the biggest thing is take advantage of all the resources the School of Fashion has to offer, and use them as much as possible out of class hours! I would kill to have a lab where I could screen print in the evenings now!
Your favorite print in the collection?
I personally love the Chevron print in the scarf collection. The colors and simple design make it soft and modern.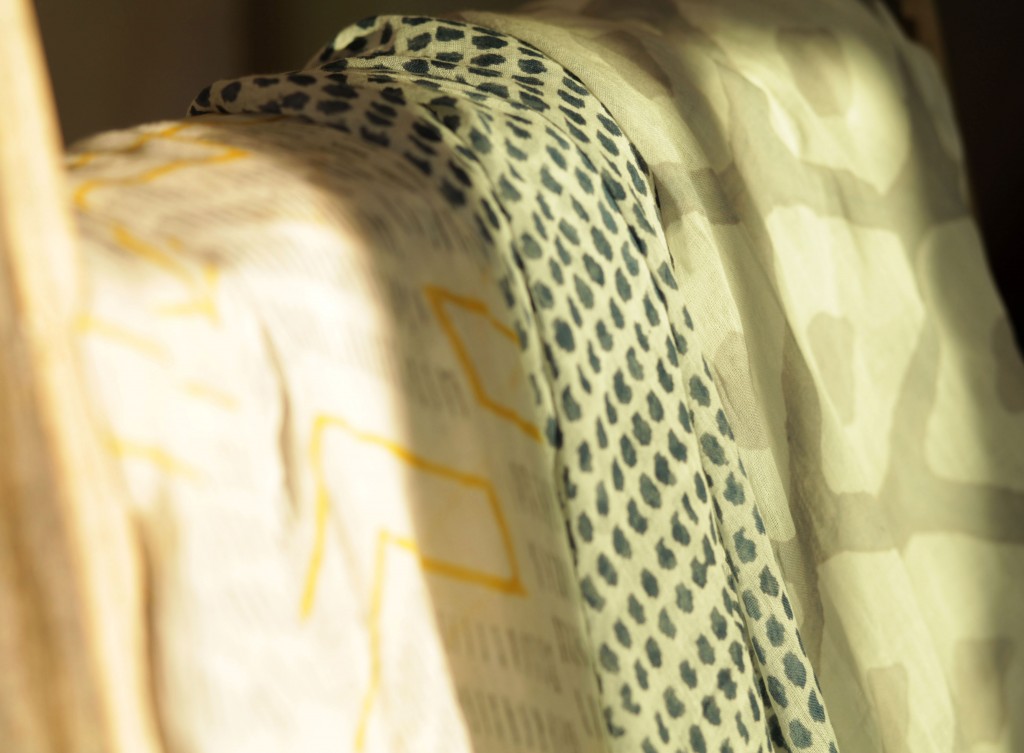 What are you currently inspired by?
I'm really loving Guatemalan cottons right now. I'm currently trying to find a cooperative that weaves cotton in the traditional vibrant Guatemalan colors.
Visit www.graymarketdesign.com to learn more about Hallie's post grad design work. For more "Alumni Updates", click here.