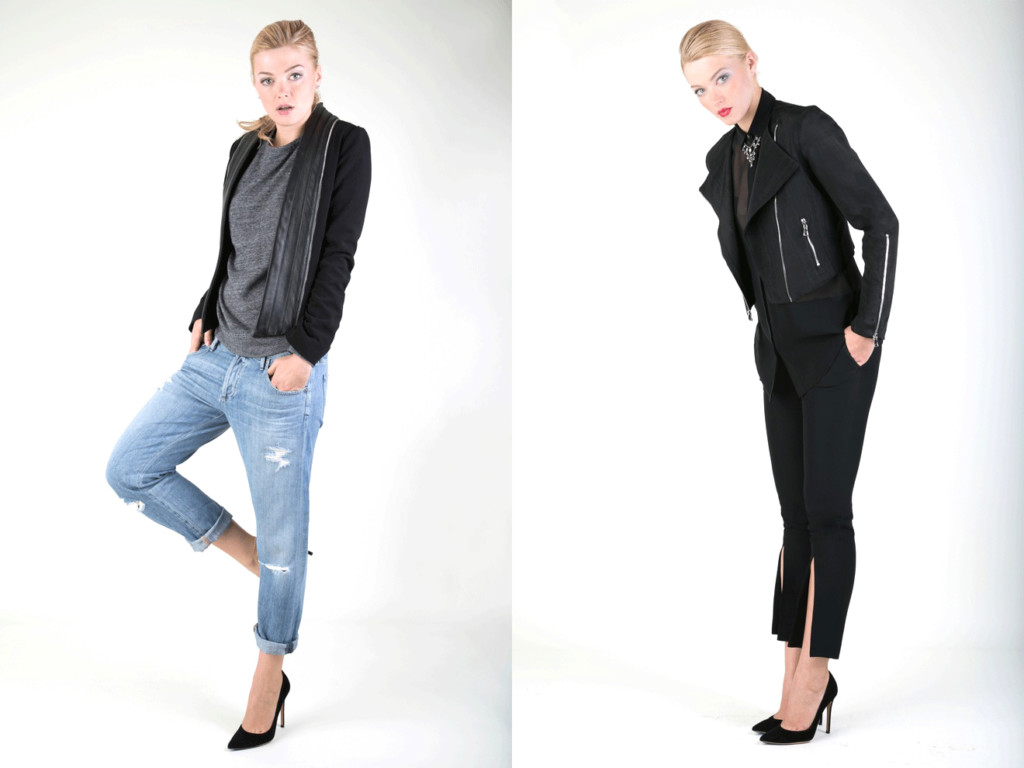 The "Signature Tux" and "Moire Moto" jacket from alumna J'Amy Tarr's Fall / Winter 2013-14 collection.
Fashion Week may wrap up today in New York, but you can still celebrate in style this weekend in San Francisco! MFA Applied Textile & Fashion Design Alumna, J'Amy Tarr, will be showcasing her latest Outerwear collection for Fall / Winter 2013-14, hosted at Curve SF on Fillmore Street this Saturday, September 14th. We caught up with the designer to get the details on what we can expect to see and, suffice to say, we'll be first in line on Saturday!
What is your favorite memory from your time as a student?
I remember laughing a lot during my time at the School of Fashion. It was a lot of fun. There were stressful deadlines, for sure, but I pushed myself while I was there. That perseverance resulted in winning an International Design Award in Korea, as well as having an issue of Evening Magazine written about me and my designs…all before I had even graduated!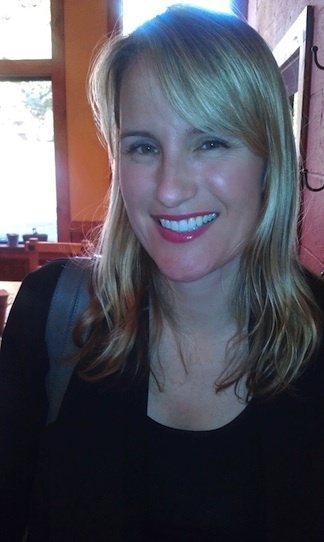 How do you think your experiences at the School of Fashion prepared you for starting your own line?
The Academy of Art University gave me a thorough understanding of how to design and edit a balanced collection. This prepared me for my stint at Michael Kors where I assisted in designing the Fall 2004 collection. As far as starting my own business, I was able to combine my studies with what I learned "on the job". Positioning yourself to design your own line is a very personal journey.
Tell me about your latest collection showing at Curve SF this weekend.
Curve SF will be hosting a trunk show for my new outerwear line for Fall/Winter 2013-14. I will be there this Saturday, September 14th, from 2:00-8:00 PM working with new and current clients to walk them through how many ways you can style these jackets and coats.
[justified_image_grid row_height=400 height_deviation=50 ids="26202,26203″]

J'Amy Tarr Fall / Winter 2013-14 Lookbook.
Which garments are your favorite in the collection?
Last season, I designed and sold a full line including pants, skirts, tops, coats, etc. This fall, I decided to focus on my favorite garments to design: jackets and coats. The fall line has a jacket I am particularly fond of called the "Signature Tux". It is a twofer! Two looks in one garment! You can wear with the Italian lambskin lapel or you can simply zip the lapel off for a second, more casual look. I also love the "Moire Moto" jacket. I have never seen a biker jacket in moire, and it adds the right amount of glam paired with an authentic, biker edge.
What advice would you give to the designers who recently showed their Spring '14 collections at Mercedes-Benz Fashion Week?
Learn a new skill. I recently made all my own marketing materials. I learned Photoshop, Lightroom and InDesign over the course of a few weeks, and ended up with a very professional product. Next season, when I work with an agency, I will know what to ask for and understand how it all works when negotiating.
Click here for ticket information for J'Amy Tarr's trunk show. Visit jamy.tarr.com to see more of this talented alum's work!
WHAT: Alumni J'Amy Tarr's Fall / Winter 2013-14 Trunk Show
WHERE: CURVE SF on 2360 Fillmore Street
WHEN: 2:00 PM – 8:00 PM