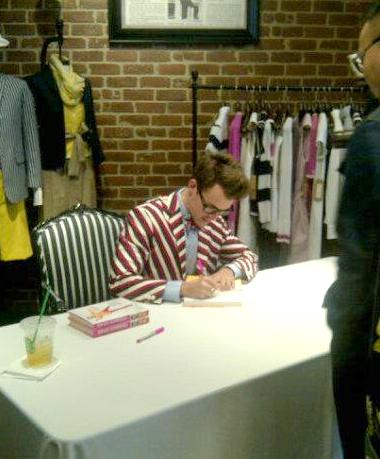 This past Tuesday, April 24, San Francisco received a visit from the ever so stylish and talented Brad Goreski, from the hit TV Show It's a Brad, Brad World on Bravo. Having earned his fame as Rachel Zoe's assistant on the Rachel Zoe Project, this stylist's career has taken off like wildfire and has proven that he can hold his own independent of his association with Zoe.
Now, Goreski has his own television show, and a fast paced career. So what better way to document his journey than through a book? Born To Be Brad, My Life and My Style, So Far is a documentation of his humble beginnings as the "awkward kid" at school to his transformation into a modern trendsetter.
The Black Fleece boutique on Fillmore Street hosted Goreski's sophisticated book-signing party. The evening began around 6:30, when fans of all ages started filling in. Bow-tie clad servers kept a fun vibe going by offering white wine, champagne, and delicious hors d'oeuvres. Refinery29 was there snapping pictures of his stylish fans and documenting the event. Before getting in line, you had the opportunity to purchase the book while browsing the boutique's preppy but sophisticated merchandise.
Follow the jump to read more!
At around 7 o'clock, the stylist made a humble entrance from the back, where he was seated behind a table ready to sign books for his fans and chat with them. The dapper Goreski wore a red and white striped fitted blazer over a baby-blue button down, and his signature bow tie in red to pull the look together.
Regardless of what some may think based on his television persona, in person he is quite charming and sweet. When asked, "What advice would you give to students aspiring to make something of themselves in the Fashion Industry?" he eagerly replied: "Do as many internships as you can. Experiment with the different fields in fashion, and find out what works best for you." What great advice!
The party truly was a success and everyone there was enjoying themselves. As for the book, it is an absolute must read. Besides seeing a side of Goreski that we've never witnessed before, he also offers his unique style advice and crazy experiences throughout his years of working in the fashion industry. We hope Goreski enjoys his stay here in San Francisco as much as we were delighted to have him visit us.
Hopefully he will return soon with a second book!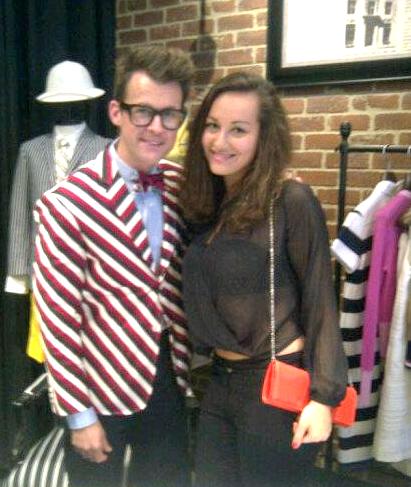 Written By: Tonislava Docheva