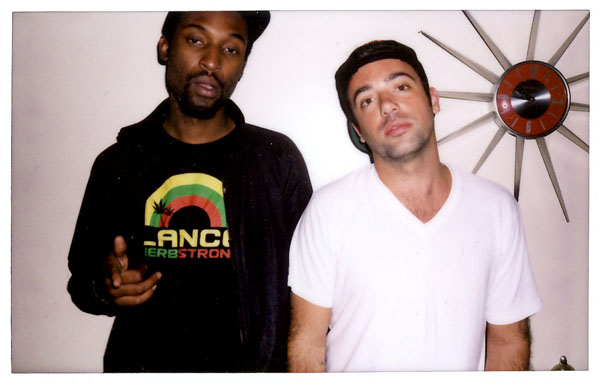 James "JPatt" and Ben "B-Roc" – together they are The Knocks. Photo by Alexandra Thurmond.
If you've kept up with Fashion School Daily, you know we're huge fans of NYC-based duo The Knocks (we even used their song for the Academy of Art University Graduation Fashion Show). Coming up with their name from the early days of their musical careers, when neighbors would complain about the noise and come knocking on their door, The Knocks have cultivated an original sound that seamlessly blends electro, dance, disco, hip hop, and more. The two-man band literally does it all, from producing and remixing to writing their own jams, and have emerged as the ones to watch in the world of music production.
On Wednesday night, The Knocks were back in San Francisco playing with Dragonette, the Canadian electronic group, at Mezzanine. During their brief stint in town, we had a chance to sit down with the duo – made up of Ben "B-Roc" and James "JPatt" – and talk with them about how they got their start in music, some favorite moments, and what's coming up next.
Starting out, who were your biggest musical influences growing up – who inspired you to make music?
JPatt: I listened to a lot of Oldies, bands like the Temptations. My dad was into a lot of jazz and church music, so I ended up listening to a lot of that, and gospel artists also. I guess some of artists would be Chicory, Oscar Peterson, The Temptations, and Michael Jackson, stuff like that.
B-Roc: I grew up listening to a lot of classic rock because my parents listened to it. Neil Young, Bruce Springsteen, Allman Brothers type stuff. And then I got into hip hop at a pretty young age and punk rock too.
How did you first meet and start collaborating?
B-Roc: We were actually roommates first, a mutual friend introduced us – he knew we both made music and we both needed a place to live in the city. So we were doing our own thing at first, making hip hop beats and working on our own stuff. And we'd go back and forth to each others rooms and help each other out with ideas and then just realized we should work together – two brains are better than one type of thing.
Follow the jump to read more!
And I know you originally started out producing, what prompted the move to making your own songs?
JPatt: It just kind of happened. We were just messing around at first and making songs for fun and then came up with a track that we actually liked and sent it to a couple of bloggers we knew, and it ended up doing pretty well. So eventually we started just chasing that more because it's more fun to do – it's always better to write your own stuff, you have less boundaries and restrictions.
B-Roc: Yeah, it was just an experiment at first and it just started doing better than the stuff that we were producing for other people so we decided to take it more seriously.
What is your process when you sit down to write?
B-Roc: It's different all the time. Sometimes we'll sit down and start from scratch just try to come up with different ideas, other times we'll be out on the road and I'll just be messing around on my laptop or he'll have an idea that he's already started or vice-versa. It happens in a lot of different ways but I think the thing that is most important when it comes to collaborating in any sense you have to be willing to compromise and be on the same page about things. I think that's the key.
Do you have a favorite song you've worked on so far?
B-Roc: I don't know that's hard. I think probably Dancing with the DJ for me maybe – it's still one of our most popular songs and it felt like it really could do something. It kind of got us where we are and I think got us our record deal and a lot of notoriety. And some of the new stuff we've been working on is really cool, but that one just had that feeling of like, "Whoa, this is really serious."
JPatt: Yeah, it's hard because I feel like by the time we're done with a song I'm so tired of listening to that song, [laughs] it's not so much a feeling of being proud, more like it's finally over. But I really like a lot of our new stuff that we're working on – maybe because I haven't heard it a million times yet [laughs].
You guys have worked with a lot of amazing people – is there anyone out there now that you'd really like to do something with?
B-Roc: Yeah there are a lot of people. We really like to work with vocalists – there are especially so many amazing female vocalists. I love Florence + the Machine, I think she should do a whole dance album because I think she sounds so good on dance songs.  And I love Robyn, too. And Kanye West probably. And definitely Pharrell, we're big Neptunes fans.
Have you had any moments or worked with anyone where it's just like, "Wow, I can't believe this is happening"?
B-Roc: I think for me it was when we did our first big tour with Ellie Goulding – it wasn't like we had made it in any sense but just the crowd reactions were amazing. Her fans are 15 to 23 year old girls for the most part, just that demographic is really awesome for that and the next day they're all over your Facebook and it was just like "Whoa, this is crazy." Before that we had been on tour with Sleigh Bells, which is just a totally different crowd and a lot of people that weren't so into us, so it was refreshing.
What are you guys working on now?
B-Roc: A full-length album – that's the plan when we get back. We have all of the ideas mapped out but we need to flesh it out. We've just been on the road so much so we're excited to get back and hunker down.
Do you have any favorite shows or festivals you've played at?
JPatt: There was one festival called Sweet Life that was a food and music festival that was really cool.
B-Roc: We also just played Made in America, Jay-Z's festival, which was really cool. We were just doing a DJ set but it was really fun –  [JPatt]: because Jay-Z was there [laughs]. Backstage at so many of the festivals they'll put the smaller bands somewhere else but at Made in America his whole point was he wanted everyone to be together. So we'd walk out of the trailer and there was Drake, Santogold, Odd Future – it was a cool experience.
Since you guys do both live sets and DJ sets, do you enjoy one more than the other?
B-Roc: For me they have different aspects – I like different things about each one. DJ sets are fun because there is way less stress. We've both been DJing forever and do it all the time so it's really natural. Playing live is natural too but so much more can go wrong, there are so many more elements. But the reaction from playing live –when it's your own song and everyone goes crazy, it feels way better.
Now that you guys have been to SF a couple of times now – are there any spots you visit or places you like to see? I know you're probably always on a tight schedule.
JPatt: Yeah, every time we've been here it's been pretty quick. This time it's less than twenty-four hours.
B-Roc: Yeah, we haven't had a lot of time here. Last time we were here when we played at Rickshaw Stop we had a little bit of a day. Our friend who lives here drove us around to this big hill where you can go up and see the bridge and the old cannons and stuff. And we visited the Full House area.
Being in New York, you've collaborated with a lot of other NYC-based artists, has that had a big influence on you guys?
JPatt: Being in New York definitely helps. There is just so much creativity in one place, and so many people doing things it just makes it easier. Not to say you couldn't do it anwhere else, there is just a lot of it in New York.
B-Roc: I think it definitely had a big part. We met in New York so that's obviously important. And the whole DJing thing helped us get our name out, New York is big place for that. There are just a lot of amazing artists in New York so yeah I think it definitely helped and has been a big influence.
Thank you so much to B-Roc and JPatt for sitting down with us – hopefully next time you're in SF we can show more of the city!
Be sure to keep up with all the latest from The Knocks on Facebook and Twitter.