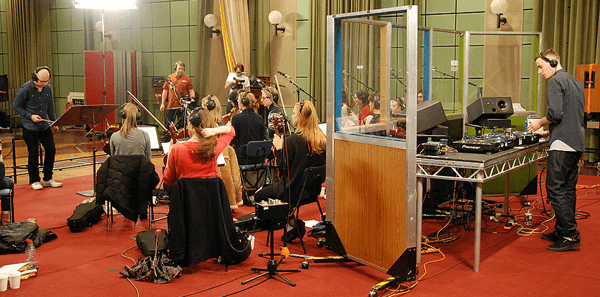 Photo Courtesy of BBC Radio. 
It's the start of a new year, a time to reflect on the past year and think about what you'd like to accomplish in the next 365 days. One of our goals for the year is to push the limits of creativity in any way possible. We realize that may seem very general, but it's something we feel is important to keep in mind each and every day. Experiment, make mistakes, attempt the impossible–you never know what might work. Fashion Design instructor Rob Curry is famous for taking garments and turning them upside down and inside out, and it's that type of creative experimentation that can bring about truly novel ideas.
So in this vein, today's A Little Music for Your Friday post features a musical endeavor that inspired us to approach things in new and unexpected ways. BBC Radio 1 DJ Benji B paired up with the sixteen piece Grant Windsor String Ensemble to deliver an amazing set that was broadcast earlier this week. As Benji spun some of the year's best dance and hip-hop tunes, the classical musicians simultaneously performed specially arranged scores, creating an entirely new experience. The live instruments add depth and drama to the electro beats, producing a sound that is truly mind-blowing.
We find this performance absolutely awe-inspiring (we've watched it three times already) and we hope it ignites the same creative feelings in you! Follow the jump to watch the  music video!
Benji B Strings – Courtesy of BBC Radio.