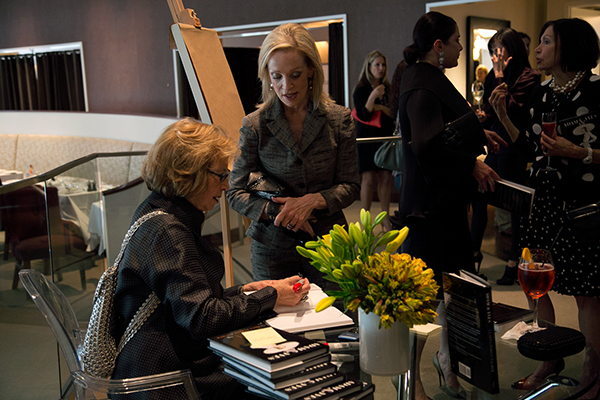 Gladys Perint Palmer signs copies of her latest book, Adam & Yves, at Neiman Marcus. Photo courtesy of Aldo Carrera.
Last night, Neiman Marcus and the School of Fashion celebrated the release of Adam & Yves (Firefall Media), the second work of fashion illustration written and drawn by Gladys Perint Palmer, the Executive Director of the School of Fashion. Gladys welcomed friends, colleagues and fellow members of the San Francisco style set, hosted at the fashionably famed Rotunda Restaurant at Neiman Marcus in Union Square. Guests were treated to cocktails, light bites and, of course, the guest of honor's signature wit and beautiful drawings.
Gladys graciously received fashion friends and fans, signing copy after copy of her latest hardcover with her trademark red ink. She departed the event for her next illustrative endeavor, covering the upcoming Paris Haute Couture Collections for Fall/Winter 2013/14, and guests in turn left with a piece of fashion history: a copy of Adam & Yves.
Adam & Yves is currently available in hardcover on Amazon.com.
[justified_image_grid row_height=300 height_deviation=50 ids="24433,24436,24432,24437,24435,24438,24434″]
Photos courtesy of Aldo Carrera.