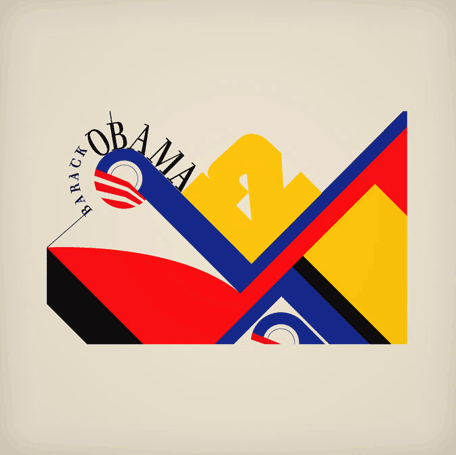 President Obama's Runway to Win design contest asked students and budding designers across the country to create a design for his Runway to Win collection – and one of our students is a finalist! Zane Kearney, M.F.A. Textile Design, created an original graphic design that was selected as one of the top nine entries!
His design was inspired by the work of Bauhaus artists – he wanted it to "have a retro feel with a sleek modern twist." He began by sketching the design on paper, and then translated it graphically in Illustrator. He even gave the Obama logo the Bauhaus treatment, making it a bit more angular in keeping with his inspiration. We might be biased (okay, we definitely are) – but we absolutely love what he came up with!
The next step in the contest is public voting – the three designs with the highest number of votes will then be printed and become part of the Runway to Win collection. Other designers who have created merchandise for the collection include Marc Jacobs, Derek Lam, Joseph Altuzarra, Prabal Gurung, and the Proenza Schouler boys – some serious fashion industry heavyweights. Lets help Zane join their ranks by voting for his design!
Click here to see all of the final designs and to vote for your top three!