We're excited to announce that MFA Textile Design student Xing Liu has won first place and BFA Textile Design student Karina Rasmussen has won third place in the Stylesight International Prints and Graphics Contest! Xing will receive a Stylesight commission and both of Xing and Karina will be featured on Stylesight.

The winning prints and graphics of Xing and Karina for Stylesight Competition. 
"This competition began as a small initiative to introduce the industry to young, talented designers," said Isham Sardouk, Senior Vice President of Trend Forecasting at Stylesight.
Stylesight hosts a seasonal prints and graphics student contest to showcase fresh talent and support emerging artists. The contest searches for work that combines this season's trends and color palettes with fresh and interesting designs. Winners are marked on originality, cohesiveness of the print collection and technical accuracy.
This season's contest went international, with students competing from schools from the United States and the United Kingdom. At Academy of Art University, the Stylesight contest was given to students as an individual project in their Textile Portfolio classes, where each student picked one out of the four megatrends—Confluence, Dissonance, Existence, and Essence—to produce six original prints and graphics for Fall/Winter 2015.
First Place Winner | Xing Liu
Born in Dalian, China, Xing Liu moved to San Francisco to pursue her MFA in Textile Design at Academy of Art University. Liu chose Stylesight's Confluence megatrend for the contest, taking inspiration from traditional tribal craftsmanship and patterns. Her textiles reimagine these classic patterns in a bold and modern manner, focusing on the splicing of geometrics to create lively, dynamic prints.
With the passion in textile design, Xing sets her future goal to be a textile designer and hope to build her own company and brand after accumulating years experience in the industry. Good luck Xing!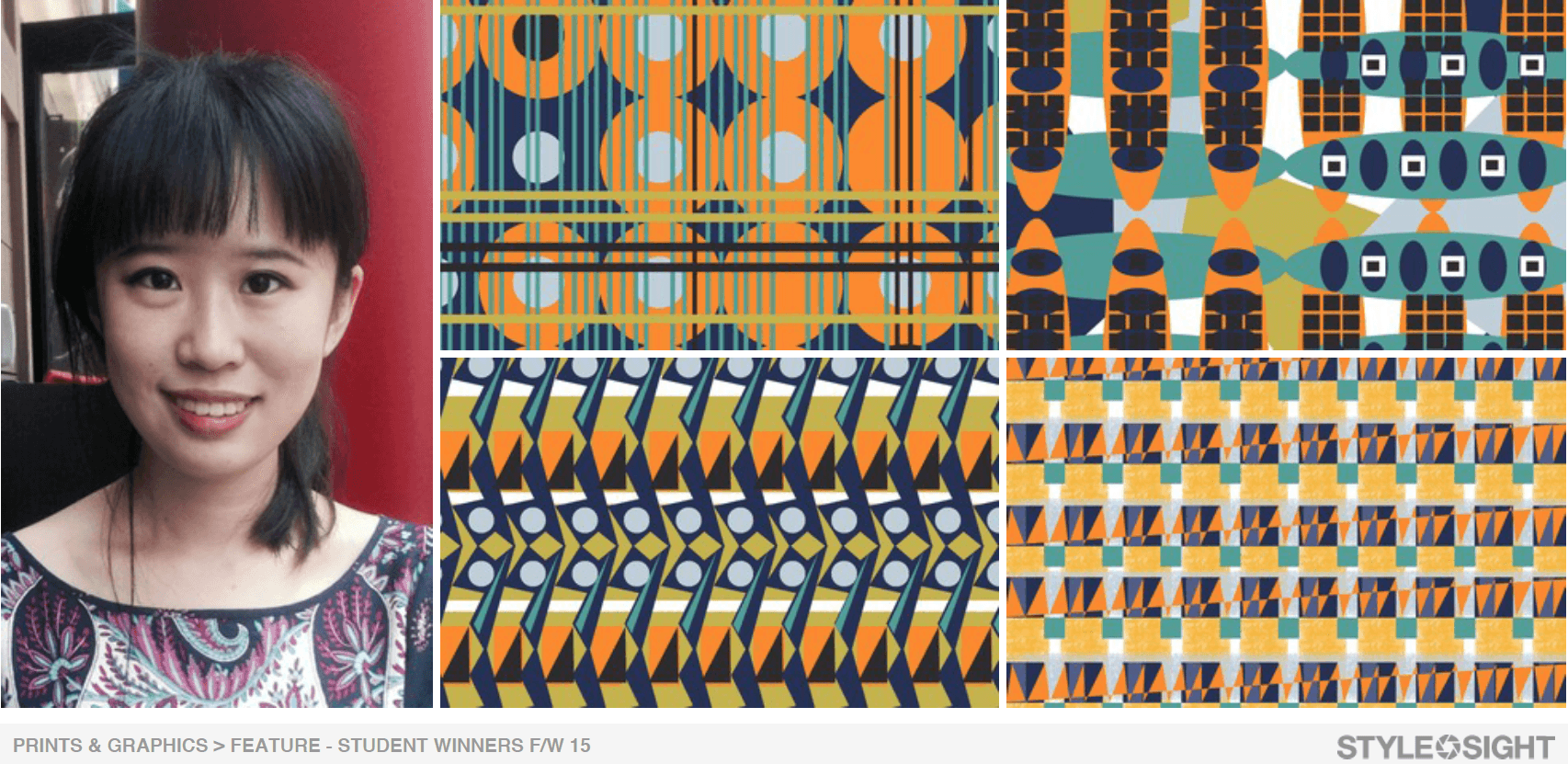 Using Stylesight's trends and forecasts as creative and technical guidelines, Xing created a series of exclusive prints and graphics.
Third Place Winner | Karina Rasmussen
Karina Rasmussen is a recent BFA graduate specializing in Textile Design. Rasmussen chose the Existence megatrend for the contest, drawing inspiration from the natural habitat and landscapes of the Arctic. Her collection of textural prints and graphics is featured elements of snowy peak mountains, crystalized ice, and morning frost, along with a floral contrast of midsummer blooms.
Over the past few years, Karina's interest within the study of textiles has developed into a passion of creating dynamic designs while exploring innovative techniques. She's open to a variety of possible fields, such as fashion or interiors. Her goal is to continue to grow within the exciting industry; she plans to enhance her skills and discover new design practices through experience and face new challenges. Good luck Karina!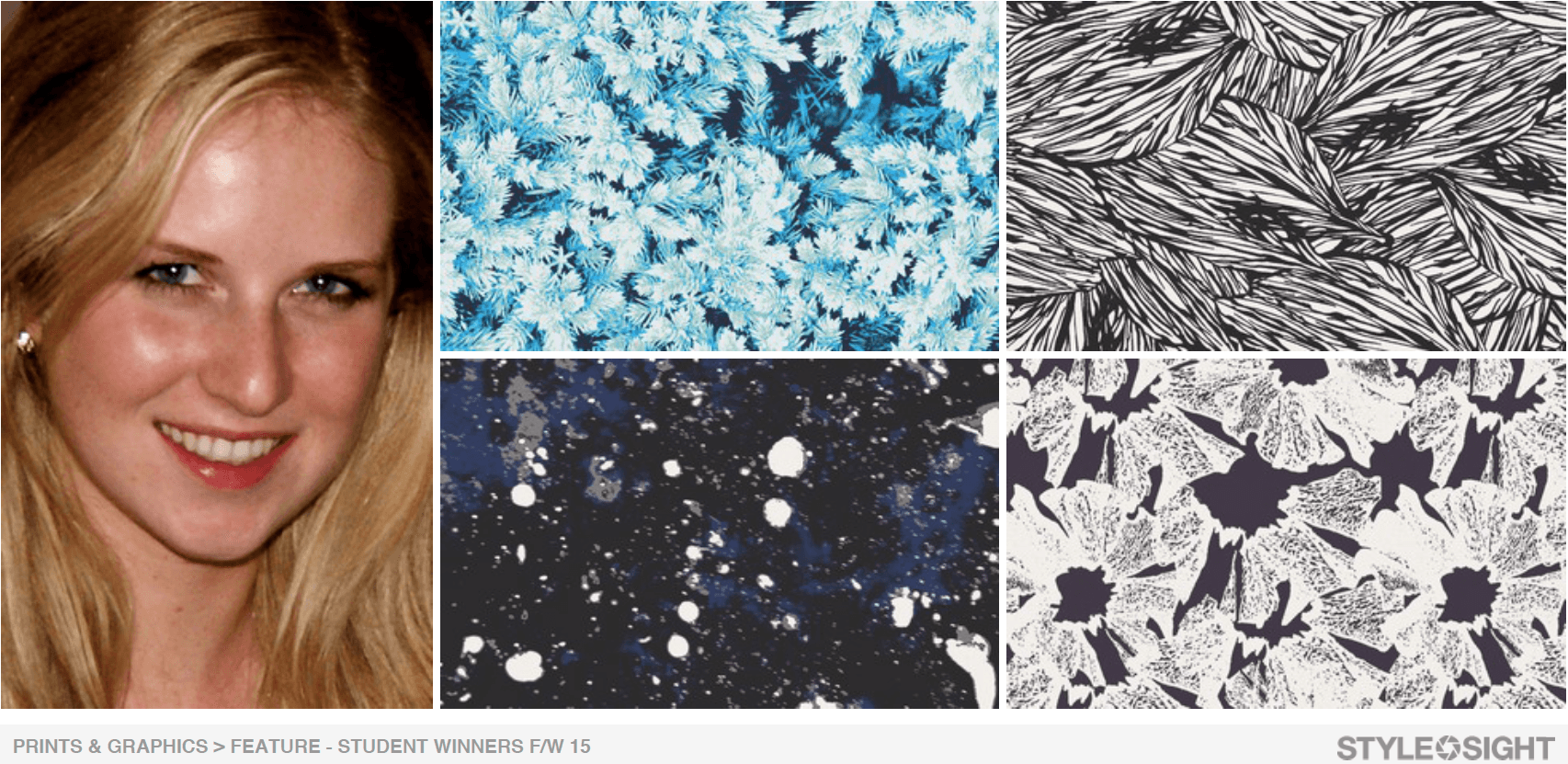 2014 Stylesight International Prints and Graphics Contest Winner, Karina Rasmussen
Written by Doreen Du