The exorbitant cost of wedding dresses is something society seems to accept unquestioningly. Wedding dresses can cost thousands of dollars, and it's not only the production cost that drives up the price- perception plays a huge role as well.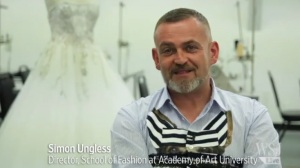 Wall Street Journal editor Monika Vosough spoke to School of Fashion Director Simon Ungless and SF-based wedding gown designer Trish Lee to get insights into why bridal designers can sell their gowns at high markups.
Check out the video here!