Angela Han is a 2016 BA Fashion Journalism graduate who has been steadily carving out a road to professional success.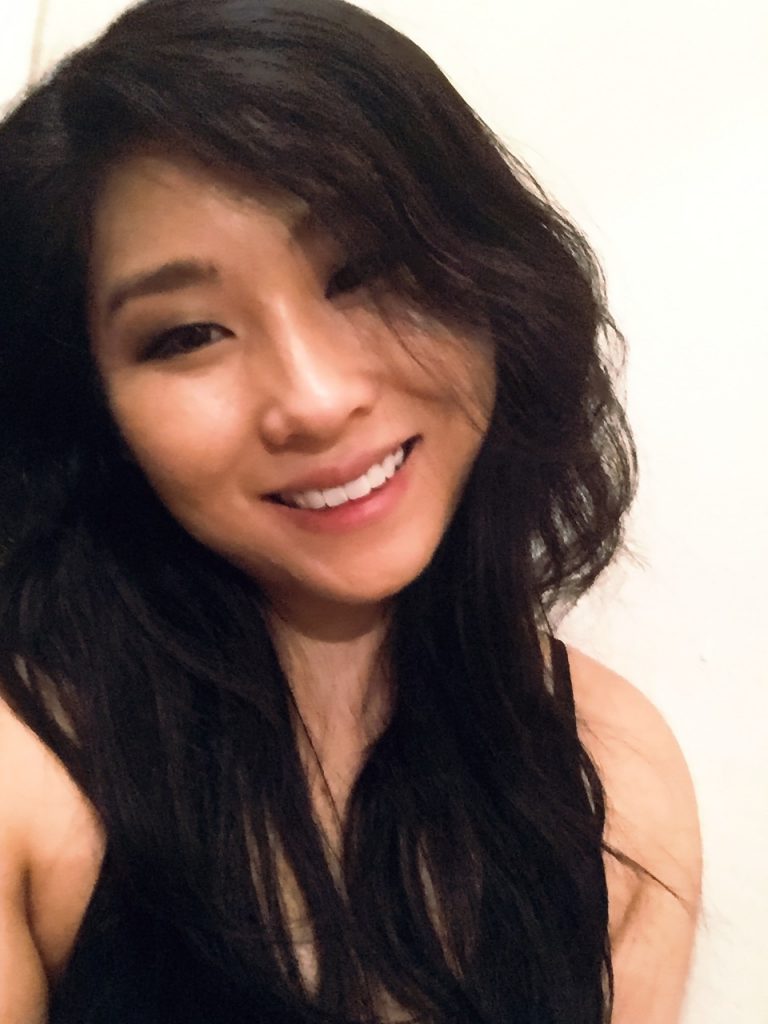 After completing internships with dot429.com and the School of Fashion Public Relations and Special Events office, she moved on to a paid content and communication internship with the Silicon Valley-based publishing platform, Flipboard.
Now she gets to learn new skills – she was recently hired by ULSee, a Taiwaneses-based tech company that specializes in AR/VR facial tracking and recognition.
Fashion School Daily talked with Angela about her academic and professional career, the different skills required for bloggers in the current media market, and her advice to other journalism students:
FASHION SCHOOL DAILY: How did you get in the door at Flipboard and what were your responsibilities?
ANGELA HAN: Right before graduation, Stephan Rabimov, Director of Fashion Journalism and Social Media Center, connected me with Flipboard. I showed them some of my work, interviewed, and jumped on board with the team in June.
A large part of my job was writing editorial and marketing content for the Flipboard blog.  Curating timely magazines and staying up to date with the latest news were also regular duties.
FSD: How did the Flipboard content creation process work?
AH: When I first started at Flipboard, I had to figure out the style of their readership.
I had to tweak my style in order to appeal to the right audience and get the message across as succinctly as possible. For example, I took a more PR approach for the content I write for FlipMarketer, (Flipboard's resource for marketers, communicators and brands) while I focused more on storytelling for interviews.
I spent a lot of time researching. I jotted down notes, ideas, bullet points, and then went online to find whatever I needed. After I wrote the first draft, if time permitted, I liked to put it away and come back to it with fresh eyes. It helped me with editing my own work.
Two of the most important things are clarity and conciseness. Readers don't want to go through lengthy pieces and come out of it not fully comprehending what they just read.
FSD: Can you walk us through a typical day?
AH: I still live in the city, so because I had to commute to Palo Alto, where Flipboard is headquartered, via Caltrain, I spent that time on the train catching up on news and curating articles for Flipboard's "10 for Today" collection.
Once I got to the office, I settled in, got coffee, checked emails, and started writing. Every day was a little different, but most days consisted of meetings with Mia Quagliarello and/or Christel Van Der Boom, my two supervisors, writing and editing for the blog, and curating content for Flipboard's @FlipShopping and @ByOurReaders accounts.
Flipboard doesn't feel like a company. It's really like a community—the environment is very welcoming, and the company takes care of its employees. It never felt like a chore to go into the office.
FSD: What was your favorite part of the internship?
AH: Writing is great and it's awesome getting that experience and exposure.
But I loved curating magazines and other content on Flipboard, whether it be music, shopping, or @byourreaders packages. There are so many cool magazines created by other users, and being able to delve deeply into the community to explore and discover passions and articles of things I'm interested in or things I'm totally unfamiliar with was fun and enlightening.
FSD: How did your Academy experience help prepare you for the position? And what was your most valuable Fashion Journalism class?
AH: The work I did as a School of Fashion PR and Special Events intern is probably the most similar to the work I do at Flipboard.
And Magazine Production was a great class—students got to make their own magazines, which was always one of the things I was into. It was not just about writing; we had to design everything, plan all the content, produce photo shoots, all of it. The class also pushed students to work in groups, which had its own advantages and obstacles. I also got a lot out of the Fashion Styling and Graphic Design classes.
FSD: How did your internship experiences influence the way you approach journalism?
AH:  The cool thing about working at Flipboard is that the platform itself is based on curation. It's about sharing, or "flipping," articles and photos rather than generating original content. In my past work experiences, I was responsible for creating my own articles, interviews, etc. But at Flipboard, my job revolved around finding, collecting, and writing about other people's work. The entire experience gave me keener insights on what type of journalism works. Every day, I learned what type of content gains the most traffic and what type of headlines grabs the most attention.
FSD: What were the other professional takeaways-  not just from Flipboard and dot429.com, but from your experiences writing for the Huffington Post, Fashion School Daily and other platforms?
AH:  Knowing your audience and tweaking your voice for that audience has been an ongoing lesson. There are nuances with my style and voice depending on which publication I'm writing for. Content, too. The subjects I write about for dot429 are generally centered on LGBTQ culture and men's style. I've only posted one interview for HuffPost so far, but as of now, I'm veering towards more fashion and marketing based topics.
Through all my experiences, I've learned the importance of storytelling and visual journalism. Storytelling is a ubiquitous term, and journalists and brands alike are constantly looking for and building narratives. But telling a good, interesting story goes beyond words. We live in a visual-obsessed world, so finding the right images to accompany a piece is essential. They say a picture is worth a thousand words, and though the axiom is a bit cliché, it's unequivocally true.
FSD: What collegial skills did you learn that were most useful. And what's your next career move?
AH:  It may seem obvious and trite, but one of the most important things I've learned is the power of networking. Knowing the right people and making strong impressions with them has gotten me incredible opportunities.
My position at Flipboard was challenging in all the right ways. I learned new things by working with talented people and asking questions when they arose.  One of the most useful things I've been reminded of is to be genuine and proactive.
FSD: What's your next career move?
AH: The position isn't at a publication – actually it's a direction that's totally new to me. I'll be doing business development and marketing at ULSee. It's a Taiwanese-based tech company that specializes in AR/VR facial tracking/facial recognizing. They're doing a lot of cool things, and I'm excited to jump into something unfamiliar and learn new things. They're currently working on building a team in the United States, and that'll be centralized in the Bay Area. So I'll be staying in San Francisco, which I'm happy about.
Although this new gig is different than my internship at Flipboard (and unlike all my other experiences), all the things I learned at Flipboard about marketing, content marketing, and curating good engaging content will help in this new business-oriented endeavor.
After working at Flipboard, I have a better sense of the business culture and environment in Silicon Valley. My writing has also evolved. A lot of the skills I picked up revolve around creating or finding relevance, which is important in every field.
Like my transition to ULSee, Flipboard was a new experience and environment I was unacquainted with. But I just went in, tried my best, and learned a lot. It was the first time I didn't feel totally secure, as there was a lot I didn't know. But like everything else, I just had to figure it out.
[metaslider id=38821]
FSD: Now that you're at ULSee, what are the responsibilities and challenges of the new job?
AH: I'm working with the marketing team and my journalism background has helped me a lot. In all honesty, my journalistic experience is probably what got me the job.  Since marketing and public relations have evolved and merged over the years, more and more marketing teams are looking for journalists because they're the ones who know how to create content and tell stories.
It's " branded journalism" and I picked up a lot of those skills during school. Most of the ULSee team is based in Taiwan and Beijing, and because of my experience in journalism, I play a large role in creating the company's content marketing plan–putting together an editorial calendar, pitches, social media, etc. Writing a press release, shaping a story, we're reaching both U.S. and China communities.
I direct the overseas team on type of content, and they shape it to interest their readers. I'm still learning and figuring it out as I go, The Chief Operating Office, Paul Liu, works with me in the Bay and he started out his career doing my job (at a different company), so he's mentoring me through it. I submit to Paul and the Chief Executive Officer, Joe Ye, and then upon approval I send out to the other marketers in China for them to rework.
FSD: Any final advice for Fashion Journalism majors?
AH: Work first, play after. Listen to instructor feedback and edit, edit, edit. What's the point in writing and going to class if you're not going to actually apply the edits given to you? Don't be lazy and know the difference between confidence and a big ego.
Text by Marisa Tania, BA Fashion Journalism student.