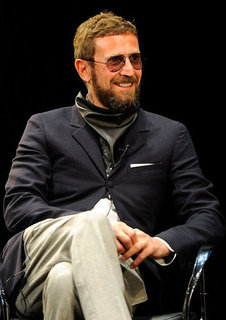 Stefano Pilati spoke at the French Institute Alliance Française on Tuesday night talk series, reminiscing on his 30 year career and his tenure at YSL, and quelled rumors of what he'll do next. "I started to work in the fashion industry at a really early age, and somehow leaving Saint Laurent ended a chapter, a career I started almost 30 years ago," the designer said. "For some reason, I haven't planned any move."
Though unsure of what the future holds, he spoke at length about his path through the industry, even offering some words of wisdom that we wanted to pass on to you! When asked how young people should approach working in fashion, he responded:
"Don't lose your passion, be true to yourself… Go to work as soon as you can… Do any job in fashion. No matter what. I've been a salesperson in a shop. I've been an assistant, a stylist, done internships… I knew that I wanted to work in fashion. That for me was a the same thing, to be a fashion designer came up, but you have to try many things."
So there you have it – you have to be willing to try many things to find the right fit. And, as Jean Paul Gaultier said as well, you have to have passion!
Read more from the interview on Fashionologie.