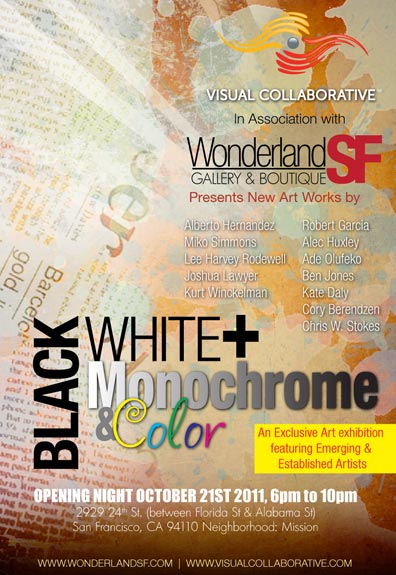 Wonderland SF Gallery's new exhibition: White + Monochrome and Color, opens this Friday, October 21. The reception is from 6 – 10 PM and there will be amazing art, music, and complimentary cocktails! This gallery/boutique (we just love the hybrid spaces in SF!) constantly showcases work from up-and-coming artists, designers, and photographers – amazing stuff you rarely see anywhere else.
It's the perfect way to start the weekend so be sure to check it out!
WHAT: Opening reception for White + Monochrome and Color
WHERE: Wonderland SF Gallery and Boutique – 2929 24th Street (btwn Florida and Alabama St. – The Mission)
WHEN: Friday, October 21st from 6-10 PM
And if you can't make it opening night – don't worry – the exhibit will be there through November 21st.
For more info go to:
www.wonderlandsf.com
415-641-4600