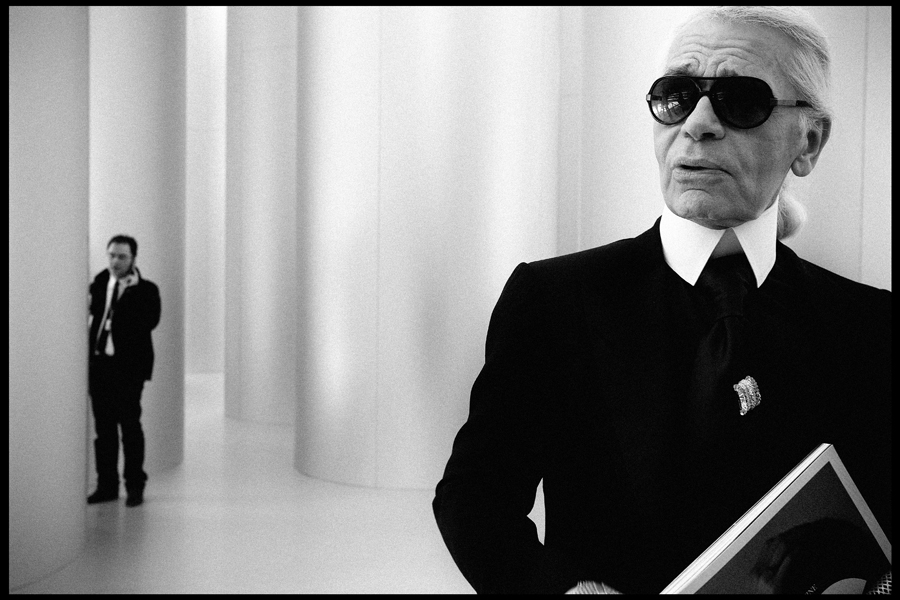 Karl Lagerfeld at the Grand Palais. Photo by Baptiste Giroudon.
Many things can be said of Karl Lagerfeld, the creative director of Chanel, who seems to have a hand in everything. Designer, photographer, film maker, artist – the man wears many hats. His influence on the world of fashion is undeniable, and he seems to just get bigger and better with each passing year. You often expect celebrities of his magnitude to have a major ego to match, but that doesn't appear to be the case with Lagerfeld.
We recently stumbled upon this interview with the Kaiser, in which you see a very humble side of the designer. He discusses the importance of staying informed and current and continuing to learn – "It is very dangerous to think you know it all," he advises. He also warns of the pitfalls of nostalgia, "If you think it was better or more interesting before – no.. The minute you think the past was better, your present is second-hand, and yourself become vintage. It's okay for clothes, not so great for people." A very interesting point of view, particularly in this day and age when nostalgia has become one of the fashion world's favorite pastimes.
The interview is definitely a must see – a very interesting look at the world of fashion and Monsieur Lagerfeld. Follow the jump to watch!