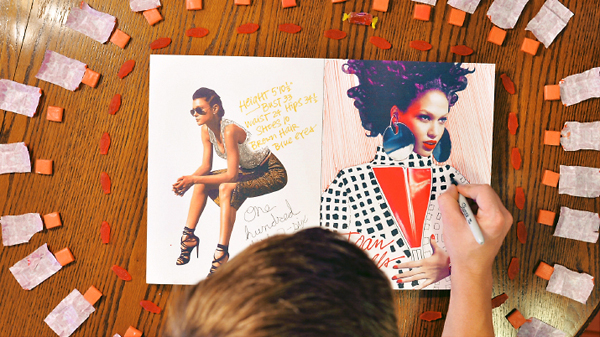 A still from the video. Photo Courtesy of Danny Roberts/IMG Models.
School of Fashion alumnus Danny Roberts has been tapped for yet another collaboration – and this is one of our favorites to date! IMG Models asked the fashion illustrator/all around creative to illustrate their Spring 2013 Show Package, which showcases all of the gorgeous models available for the upcoming season, and the result is spectacular.
The package was set up as a coloring book, featuring the models' pictures on blank white pages, basically an artists' dream come true. Danny and his brother David created a stop motion video of the entire process, as Danny illustrates each and every page in the book, using markers, pencils, and even candy. It's amazing to see how he works from page to page, bringing the photos to life in a whole new way.
Follow the jump to watch the video and see Danny in action!