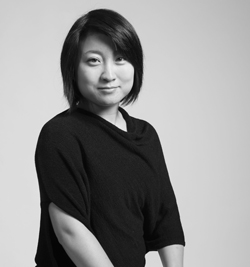 Yanfei Fan was born and raised in Shijianhuang, in the Hebei province of China. She earned a B.F.A. in Fashion Design from Hebei Normal University before pursuing a M.F.A. degree in Fashion Design at Academy of Art University.
When creating her Spring 2013 collection, Fan was inspired by the windows in modern buildings, including their repetitive patterns, angular shapes, and the transparency of the glass. She constructed her garments using silk and organza, which she embellished with feathers.
Follow the jump for our interview with Yanfei!
When did you first realize you wanted to be a designer?
Since I was a child
What was the first article of clothing you ever designed?
A white pleated dress.
What other designers do you admire and why?
Phoebe Philo, her style is simple peaceful but you still can feel the energy underneath.
What is your present state of mind?
Enjoy everyday no matter is nice or bad.
What has been the hardest part of designing and creating your own collection?
To making the plaid is the hardest part. Melting to fabrics together made the fabric so stiff and hard to handle.
Where do you find inspiration?
Everywhere, it's designers' job to find the beauty and use it on their own way to express themselves.
What do you love most about being a designer?
Because is a creative job. You create something from the very beginning.
What is the most important thing people should know about you?
My designs.
For more on the Academy of Art University Spring '13 Fashion Show, click here.