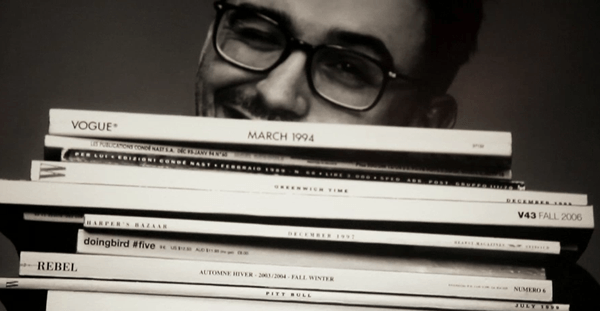 Luis Venegas with a few of his favorite issues. Photo Courtesy of NOWNESS.
Fanzine137 is one of many projects helmed by magazine aficionado Luis Venegas, and is dedicated to the multi-talented publisher's adoration of all things print. The zine began as labor of love, but since its inception in 2004, has grown into a work of art in its own right with contributions from notable artists including Bruce Weber, Terry Richardson, Ryan McGinley, and Christian Lacroix.
The lastest issue, which took a year to complete, highlights Venegas' favorite mags from his insane collection, which includes over 10,000 issues from around the world, spanning a period of nearly six decades. "I've always wanted to do a tribute to my favorite magazines and the many wonderful creative people who work in them," he told NOWNESS. "It took some weeks to photograph and retouch them and make them look as real and fabulous as they deserve."
Follow the jump for a behind-the-scenes video with Venegas and be sure to check out Fanzine137!