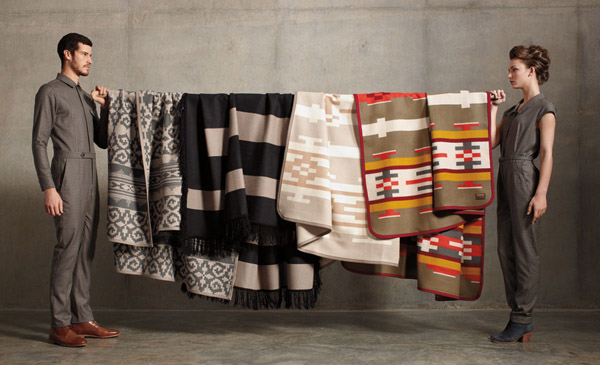 Pendleton's Portland Collection for Fall '12. Photo Courtesy of Pendleton.
It seems that there is always something to do in San Francisco, from art exhibits to trunk shows, concerts, and everything in between. And since we know you're all extremely busy, we took the time to round-up this weekend's hottest events so you don't have to!
The Pendleton Portland Collection Launch at Seedstore
Opening Ceremony favorite Pendleton – the heritage brand known for their cuddly and cozy wool blankets – is launching their second Portland Collection for the Fall '12 season. In celebration of  the brand's latest foray into fashion, local favorite Seedstore is hosting a fashionable fête complete with cocktails, awesome giveaways, and of course – first dibs on the new collection!
WHEN: Thursday, October 11 from 5:00 to 8:00 PM
WHERE: Seedstore in the Inner Richmond – 212 Clement Street, San Francisco
Follow the jump to read more!
Souchi Trunk Show
Souchi, the local knitwear label launched by alumna Suzi Johnson, is having a trunk show at McMullen in Piedmont! Known for their ridiculously soft cashmere knits, Souchi's sweaters are the perfect items to keep you warm during the rapidly approaching winter months. Suzi will be on hand to chat about her latest collection, and Pietisserie will be serving delicious minie pies. We'll see you there!
WHEN: Thursday, October 11 from 1:00 to 7:00 PM
WHERE: McMullen – 1235 Grand Avenue, Piedmont
Calivintage Closet Raid at Pretty Penny
We love a good vintage piece, but unfortunately don't always have the time to spend searching for those hidden gems. If you've found yourself in the same boat, then this event is just for you. Local blogger Erin Hagstrom of Calivintage – who has a seriously covetable array of garb from years gone by – will be selling off a selection of said pieces at Pretty Penny in Oakland. Expect lots of adorable mod pieces (a big trend for Spring), baby doll dresses, and beautiful blouses from her amazing archive. And you'll get to take home your purchase in an adorable printed tote!
WHEN: Friday, October 12 from 6:00 to 9:00 PM
WHERE: Pretty Penny – 5488 College Avenue, Oakland
Treasure Island Music Festival
The Bay Area's second largest music festival, Treasure Island, is back for it's sixth year in a row. Taking place on historic Treasure Island in the middle of the San Francisco Bay, the setting alone is reason to go. This year's acts include The XX, M83, Gossip, Toro y Moi, Grimes, and many more. Great music, a fantastic sunset that you can watch from the Ferris Wheel – it doesn't get any better than this. And be sure to check out our TI playlist!
WHEN: Saturday, October 13th and Sunday, October 14th, 12:00 – 11:00
WHERE: Treasure Island – Half way between SF and Oakland on the Bay Bridge