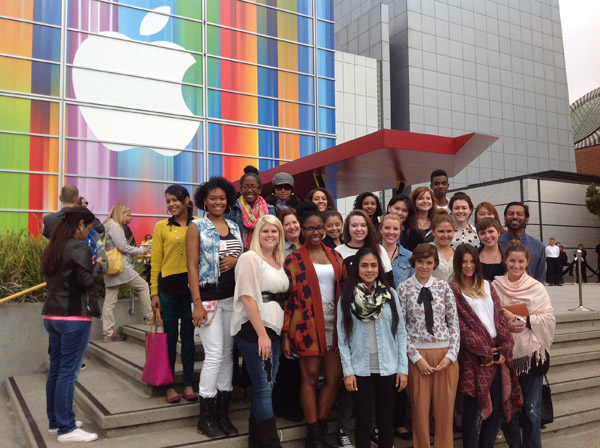 Back in September (seems like ages ago!), students in Gabriel Gima's FSH 145 – Consumer Motivation in Fashion took a trip to the Apple Store for the big fall announcements. And in light all the consuming that goes on at an Apple Store, we wanted to see if students were in fact convinced to buy the newest product offerings. Here's what they had to say!
"The trip made me want to see more.  It convinced me that this is the best iPhone yet – I've been wanting to buy an iPhone, and I will this November." – Shanacey Hicks
"Going on this Apple trip, reading their blog, and having mail sent to my house isn't what motivated me to order the iPhone 5.  I have been a loyal apple consumer for years and years.  Apple has always been a company that I love.  GO APPLE!!" – Nicole Burton
Follow the jump to read more!
"I really enjoyed the trip to the iPhone 5 announcement, and was very interested in the blog and how the videos were up to date, and when the price goes down I will buy it. I just can't afford the crazy price it is at right now." – Sadie Baines
"Despite feeling excited over seeing people congregating at the Apple reveal, and watching everything via blog as it was happening live, I unfortunately will not be purchasing the new iphone 5." – Elizabeth Bayle
"The iphone 5 hype has been seen before with the previous apple products.  I'm very content with my iphone 4 and am not planning a future purchase." – Elyse Kimmel