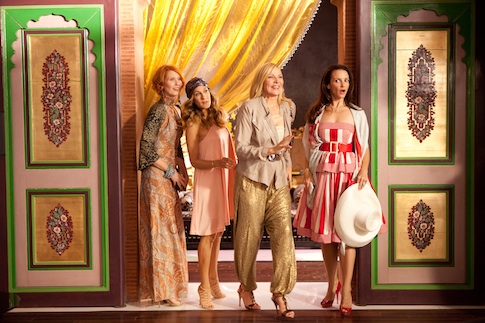 We have a winner for our Sex and the City 2 contest!
Congratulations to Graphic Design student Sanna Luukka. She, along with three of her friends, will get to see a pre-screening of Sex and City 2 and get the special prize pack!
For the answers to the questions, follow the jump!

1.) How many costume changes does Sarah Jessica Parker have in Sex and the City 2? (10 points)  41
BONUS: How many costume changes do Kim Cattrall, Kristin Davis and Cynthia Nixon have each? (5 points)
Kim Cattrall: 25
Kristin Davis: 24
Cynthia Nixon: 24
2.) In the first Sex and the City movie, what DVD does Louise (Jennifer Hudson) give Carrie as a gift? (10 points)
Meet Me in St. Louis
3.) Where did Miranda go to college? (10 points)
Harvard Law School
4.) What was the name of the restaurant where Samantha first met Smith? (10 points)
Raw
5.) In the episode titled "La Douleur Exquise!" Charlotte frequents a boutique where the creepy shoe salesman who has a foot fetish. What was the name of the salesman? (10 points)
Buster
6.) "The Russian" (a.k.a. Aleksandr Petrovsky a.k.a. Mikhail Baryshnikov) gives Carrie a dress in the episode titled "The Ick Factor." Who made the dress? (10 points)
Oscar de la Renta (who was a guest of our school)
7.) What is the name of the bar that Steve and Aidan open in season 4 of the television series? (10 points)
Scout
8.) In the first movie, who made the wedding dress Carrie wears to her "first" wedding to Mr. Big? (10 points)
Vivienne Westwood (she was also a special guest at our school!)
9.) In the series, Samantha longs for a famous handbag that is the ultimate status marker. What is the name of that bag? (10 points)
Hermes Birkin Bag
BONUS: What celebrity does she use to get the bag (only to achieve humiliating failure)? (5 points)
Lucy Liu
10.) What pop sensation makes a cameo in the sequel? (10 points)
Miley Cyrus
11.) Carrie is wearing a white dress on one of the film's posters. Who makes the dress? (10 points)
Halston Heritage