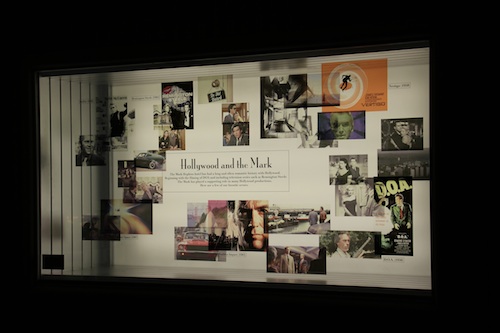 This semester, visual merchandising students worked on a window project for the Mark Hopkins Intercontinental Hotel in San Francisco. Since 2005, the visual merchandising students worked with the hotel annually to create new, interior window displays; now it is slated to become a bi-annual project.
The three displays can be seen on the California Level and include the following themes: Art of the Mark (focusing on the history behind the artistic aspects of the hotel), Music at the Mark (featuring musicians that have performed at the hotel), and Hollywood and the Mark (highlights films that have been filmed in, from, or around the Mark). On the Lobby Level, there is the News from the Mark (shares the stories and experiences from employees), and an additional display that showcases the LEED® EBOM Gold Certification of the Mark's sister hotel, the InterContinental San Francisco.
The unveiling was last Tuesday, May 17th. Instructors Martin Zanfardino and Russell Clower were on hand with students from FSH 472: Visual Merchandising 3. Congrats to the following students for a great job:
– Jefrey Jones
– Treia Young
– Danielle Wallis
– Pei-Ju Chen
– Elizabeth Barta
– Sae Jin Park
– Zhao Qi Wu
– Sye Hwa Kim
– Quincy Gholar
You can take a look at the displays at the InterContinental Hotel Mark Hopkins located at 1 Nob Hill in San Francisco. Check out the gallery below for more of their work:
For more info on the displays, visit www.intercontinentalmarkhopkins.com.
All photos by Connie Perez-Wong