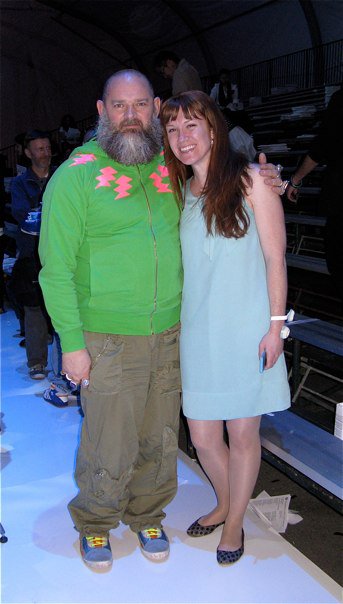 Mariah Groves is not only a familiar name to the Academy of Art University's Industrial Design department, but also to the spring 2010 fashion show where many of her jewelry designs were showcased. Groves, who graduated in 2009 and likes to work with metal, plastic — and even foam — has since interned for Walter Van Beirendonck and continues to create her own collections. Fashion School Daily caught up with the alum to learn about her internship, her current designs, and what's to come from the designer.
You showed many different collections in the Academy of Art University Fashion Show in Spring 2010, which collection did you like best?
I am really most proud of my laser cut neon acrylic pieces which were paired with Melody Bainter's collection. I feel that those pieces truly showcased my combined background of industrial design and jewelry design in form, material and production methods.
How was your internship with Walter Van Beirendonck? What did you do?
Working for a fashion designer when you did not study fashion design in school is quite the eye opening experience! Literally everything was a new challenge every day from working with fabrics to running errands in a new and very different city. For the first month, I worked on a variety of tasks to help get ready for the show in Paris, from creating fabric color cards for the showroom to helping to make the client books. I then went to Paris and finally got to see everything come together in the runway show, which was very exciting and fulfilling. The last two months were spent on research and concept design for sunglasses Walter designed for Linda Farrow.
Follow the jump to read more.
Your pieces tend to be bright and bold, would you say that's your design style?
Yes, whether working with plastics or metals, jewelry or furniture, subtlety is not really my thing!
What are you currently working on?
My current inspiration is the darker side of the 1930s and the feelings and tones that go along with that era. I am currently designing some larger, full body, wearable sculpture type pieces as well as more everyday, commercial wear for that collection. I would like to realize this inspiration as a full experience and exhibit with paintings, photography, clothing, and my pieces. I can't give away much more than that!
Which is your favorite to design: earrings, bracelets, necklaces?
I don't really think of my pieces in terms of articles of jewelry. I first think of the form I would like to create and then what part of the body that form can accentuate or flow together with the best.
What designer would you love to collaborate with?
Maison Martin Margiela and an up-and-coming designer I met in Antwerp, Johannes Hinrich Meyer.
What are you plans for the near future?
I hope to get some new collections finished up and get them into local shops and then expand across the country. I'm hoping to do some more internship work in Europe as well, and eventually I'd like to move there.
Written by: Jessica Velez