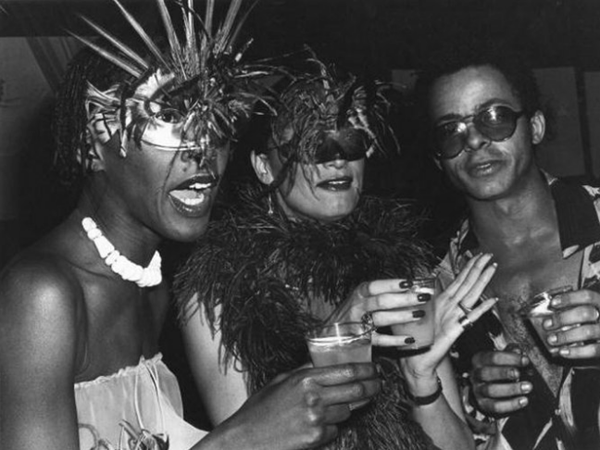 Models Bethann Hardison and Daniela Morera with designer Stephen Burrows at Versailles.
Photo Courtesy of Rose Hartman/Getty Images.
The Palace of Versailles is easily one of the most iconic monuments in French history, but what many don't know is that it also has a very special place in the annals of fashion history. In 1973, Versailles was the setting for arguably the most epic fashion face-off of all time, Le Grand Divertissement à Versailles, a battle royale between five American designers and five French couturiers.
The event was organized by Eleanor Lambert, the godmother of fashion PR and firm believer in American fashion. She invited Halston, Oscar de la Renta, Bill Blass, Anne Klein, and Steven Burrows to represent the U.S., hoping to expose them to European markets. France was represented by Yves Saint Laurent, Marc Bohan for Dior, Hubert de Givenchy, Pierre Cardin, and Emanuel Ungaro – the biggest names in fashion at the time.
Follow the jump to read more!
What began as a fashion PR stunt quickly became a monumental turning point in fashion history. It not only marked the acceptance of American designers on the world stage, it also had a profound effect on the modeling industry. Models of color were still a rarity in the industry at the time, and the American designers made the groundbreaking decision to cast twelve African-American models for their part in the sartorial showdown. But it was not simply the fact that they were models of color that got people talking – it was the spirit and life that they brought to the runway.
This pivotal moment in the fashion industry is the subject of a new film, Versailles '73: American Runway Revolution. The documentary, directed by Riley Draper, features interviews with several of the models, as well as former Vogue editor Grace Mirabella, and several fashion historians. It was screened at the Cannes Film Festival earlier this year, and will premiere in September during Mercedes-Benz Fashion Week.
Watch a sneak preview of the film in the trailer below!
Source: NPR, Fashionologie