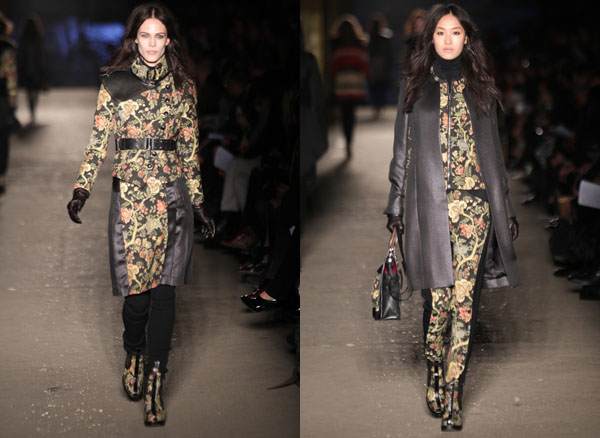 Rag & Bone Fall 2012. Photo Courtesy of WWD.
Milan fashion week has come to a close, and with that, one is now able to discern different trends that have been appearing since the New York shows. It seems that Fall 2012 is a season of brocades. These have been applied in all kinds of forms, textures and sizes, ready for the street or the red carpet.
Rag & Bone and Proenza Schouler used them in their tribal and Asian inspired looks. These brocades also make use of metallic and gold fabrics that have shown up on several runways this season.
Jason Wu also made use of brocades, creating an elegant collection based on his Chinese roots. His outerwear looks much more modern than the cocktail dresses themselves.
Over in Milan, Frida Giannini showed the dark romanticism of Gucci with oversized brocades, velvet appliqués and devore fabrics. The fabrics are the epitome of luxury and refinement and were used on pantsuits, handbags, dresses, and more.
Follow the jump to read more!
Dolce & Gabbana also had something to say on the subject. In their overly embellished collection, embodying the quintessential Italian woman, they adopted materials with contrasting textures and three-dimensional silhouettes. There was everything from lace, traditional jacquards, and gold brocades applied in capes, sheer dresses and boots.
What is engaging about brocades is that they add a touch of refinement to each and every look, but they have also been able transcend their boring, curtain-like tendencies and provide us with pieces that are perfect for the multi-tasking woman of today. They can embody luxury at black tie events, or just add a touch of glamour in the form of a handbag or the perfect pair of boots.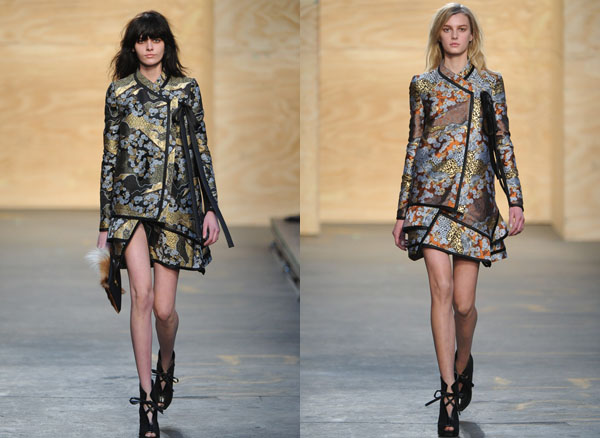 Proenza Schouler Fall 2012. Photos Courtesy of WWD.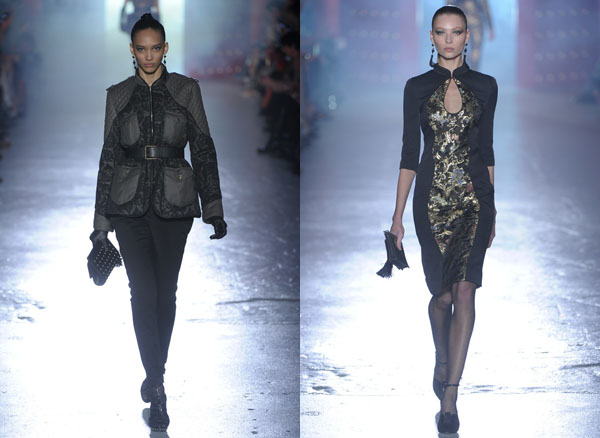 Jason Wu Fall 2012. Photos Courtesy of WWD.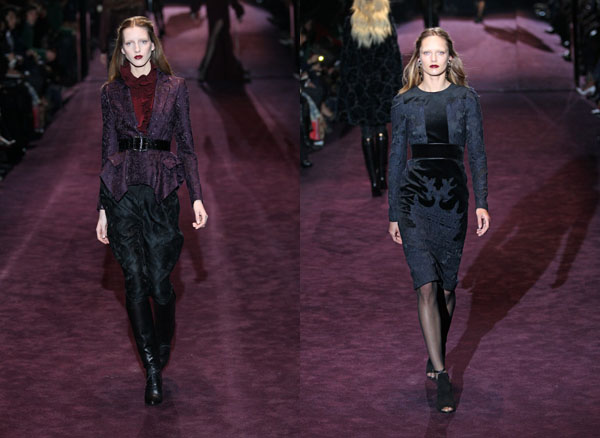 Gucci Fall 2012. Photos Courtesy of WWD.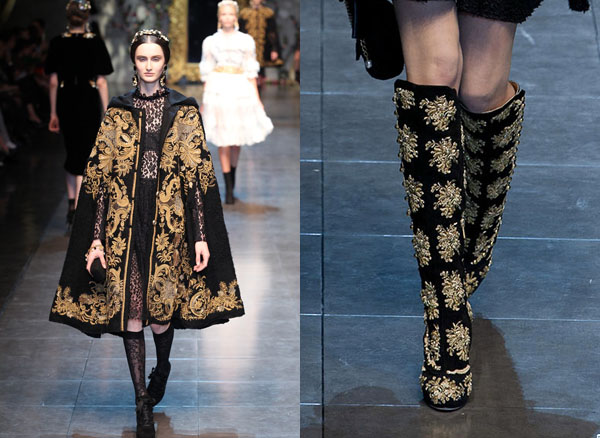 Dolce & Gabbana Fall 2012. Photos Courtesy of WWD.
Written By: Laura Acosta