And another bites the dust – Milan Fashion Week is over and now it's off to Paris! But, before we depart for the final leg of fashion month, lets look at a few of our favorite collections from Milan. We saw lots of purple, which we are seriously loving, tons of fur (and in fun colors), and some stellar accessories too! What were your favorite collections from Milan? Tell us in the comments below!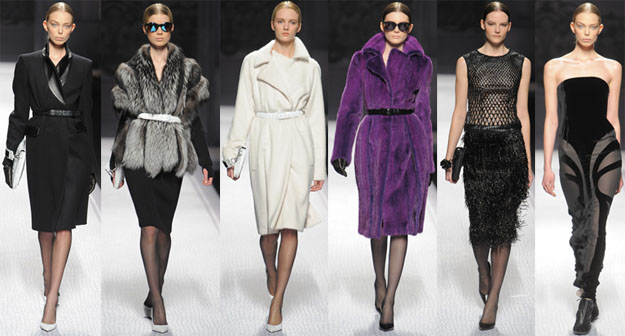 Alberta Ferretti's Fall 2012 collection was a bit of departure for the Italian designer. Known for her light, feminine dresses, this season she switched the focus to outerwear and sent out a pleasing array of coats and knits. The luxurious fabrics – soft leathers, sumptuous furs, and brushed wools – softened the masculine feel of the collection. And, of course, there were a few body skimming dresses for good measure, much to our delight.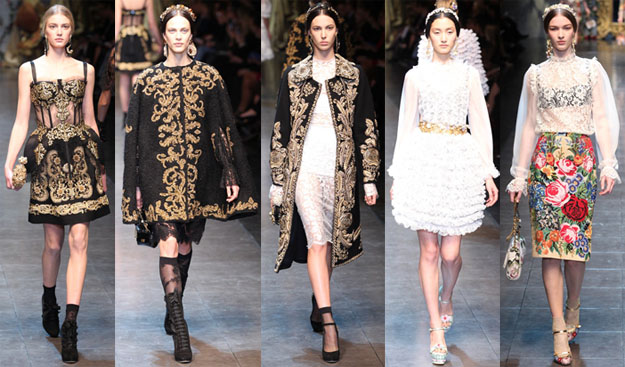 Dolce & Gabbana's collection was very… Dolce & Gabbana. Over-the-top opulence emanated from each and every look that came down the runway. Gold embroidery featured prominently throughout the collection on everything from coats and capes to dresses with nipped waistlines and knee-high boots. Dresses of white and black lace left little to the imagination, while embroidered florals and cherub prints injected color into the collection. The overall theatrics of the collection and presentation certainly made for some excitement during fashion month – which can seem to drag on. Was it exactly wearable? No. Beautiful? Yes.
Follow the jump to read more!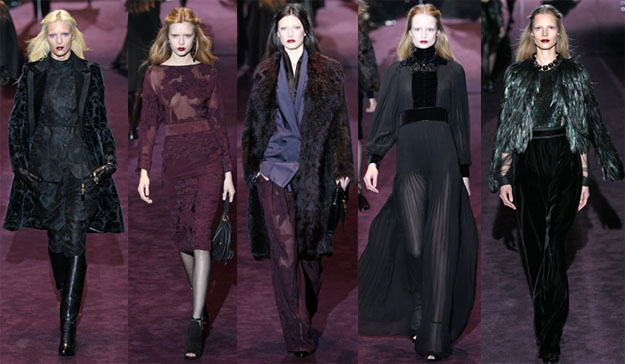 At the Gucci Fall 2012 show, the atmosphere was dark and romantic. The palette was reminiscent of the colors of a mood ring worn by a brooding teenager – dark sapphire blue, plum, and jet green swirled atop a backdrop of black. Plush velvets, rich jacquards and printed silks were cut in oversized, masculine shapes and paired with filmy chiffon pieces that added a sensuality to the collection – the perfect balance of strength and femininity.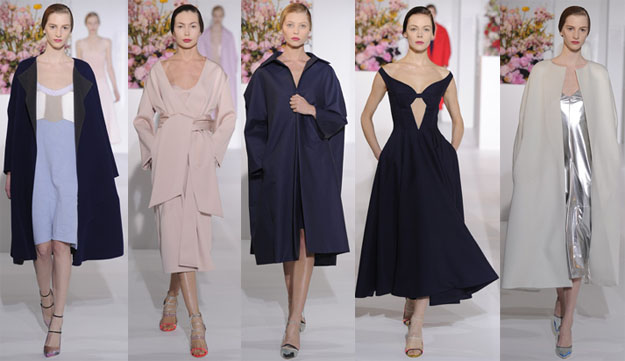 Raf Simons' final collection for Jil Sander was decidedly feminine, without sacrificing the sleek simplicity that has become his trademark. Oversized wool coats were draped over a-line dresses or worn alone, and lingerie-inspired separates for day transitioned to shoulder baring dresses and pants for night, all infused with a couture sensibility. Shades of light pink and dove grey gradually faded to black, with a healthy does of red and navy in between. The young designer left on the highest of notes, and we can't wait to see what he does next.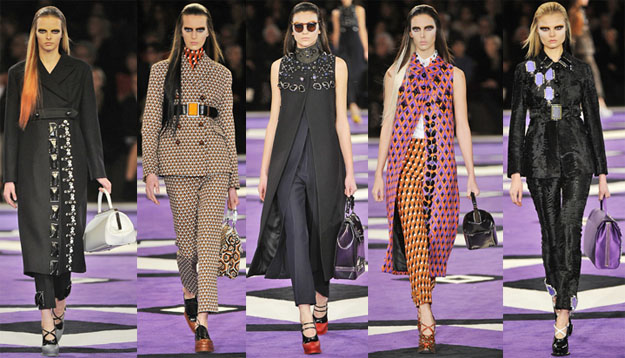 Miuccia Prada's Fall '12 collection was a bit more restrained than we're used to, but in no way disappointing. The show opened with a number of solid black ensembles – pants with blazers and dresses layered under coats – all embellished with 3-dimensional embroidery and faceted plastic gems arranged in linear patterns. And just when we thought it was back to black, out came the prints that are Miuccia's signature. Geometric patterns covered cropped suits, pajama pants, and a number of particularly interesting full-length vests and jumpers.
For more from the Fall 2012 Collections, click here.
All Photos Courtesy of WWD.