We all heard the news that French Vogue was blacklisted from Balenciaga. Even Editor-in-Chief, Carine Roitfeld confirmed, "We're blacklisted. It's too bad, it's a beautiful house and it's French. I hope that it's not forever."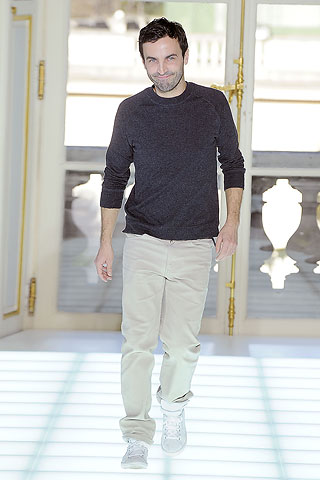 Ghesquière takes a bow at the end of the Balenciaga Fall 2010 show. Photo credit: Style.com
Word on the Parisian street is that creative director Nicolas Ghesquière and his team at Balenciaga is pissed off at the fact that Roitfeld fired Marie-Amélie Sauvé who was a stylist for French Vogue and a very close friend of Ghesquière. That could be the root of the feud. However, many noticed that Sauvé is now on American Vogue's masthead!
Sauvé left French Vogue for American Vogue? This is a whole new story. It could be like The Real Life Devil Wears Prada.
Another more convincing word on the street says that Carine allegedly asked Balenciaga for their samples to be shot in an editorial. Apparently, one of the coats ended up at Max Mara's design studio and rumor says the the coat was copied and then sent back to Balenciaga.
The house of Balenciaga is known for the strictness of their sample clothes. They barely lend you their samples unless you promise you'll shoot the head-to-toe runway look. They trusted the samples to Roitfeld and her team and they are just rumors – but who knows?
Written by: Harry Go
For more of "The World According to Harry," click here.