Please give a warm welcome to our newest blogger Harry Go! He will be delivering witty banter on the world of culture, fashion and everything else in between. In his first piece puts the spotlight on Prada's Fall 2010 show – and the boring "hype" it caused with its models
Last week, the Prada Fall 2010 show was held in Milan and it was streamed live on their website.
Before the show started, there was hype created by the Internet world. People were saying that this season's models will shock the audiences and they would be Prada's answer to CFDA's size and age question.
What was Prada up to? Were they going to import plus-size models? Or maybe they were going to bring in some old models. And by old, I mean real old. Like Carol Alt or even Twiggy. I was hoping for lots and lots of models of color. It wouldn't be an answer to CFDA's size and age issue, but it would be refreshing.
On the day of the show, people in Milan noticed that Victoria's Secret models were flying in to Milan on the day of the big show. I hoped that this wasn't the 'shocker'. Unfortunately it was.
Miranda Kerr walked Balenciaga and Adriana Lima has walked in Givenchy. Plus, Alessandra Ambrósio, Karolina Kurkova, Izabel Goulart and Rosie Huntington-Whiteley all walked in Giles Fall 2010.
There was nothing exciting about this. We expected more from you Miuccia – especially with all this unnecessary hype
Alessandra, Miranda and Bianca Balti have the similar body type to Prada's new favorite gals Lindsey Wixson or Rasa Zukauskaite . They probably have a little bit more in the breast and curve area, but it's not too obvious. The only mild—or semi-mild—shocker was Doutzen Kroes who was visibly a little bit bigger than the rest of the cast.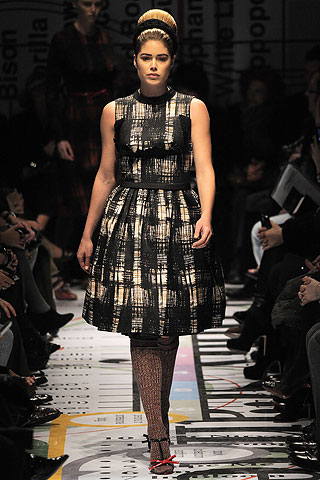 Doutzen Kroes at Prada Fall 2010. Photo credit: Style.com
Based on this, it looks like the house of Prada is trying hard to remove themselves from bad stereotypes. After casting all Caucasian girls in Fall 2007 and Spring 2008 (unless the Brazilian beauty, Isabeli, counted as a model of color), Prada thought they can get away with it by playing a hip-hop song and putting two Asian models (Liu Wen and Shu Pei Qin) and an an African-American model (Lyndsey Scott) for the Spring 2010 show.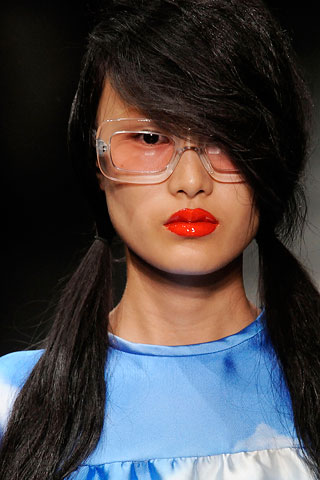 Shu Pei Qin at Prada Fall 2010. Photo credit: Style.com
A while ago, Miuccia was supposed to dress the "curvy" extras from the cast of the Metropolitan Opera's new production of Verdi's Attila. She allegedly said "I cannot clothe them! I need models."
In order to repent Miuccia's sin, Prada placed Victoria's Secret models in their show. She's gonna need to do more than that.
If it's not sensationally new, don't create a hype around it. It'll only leave people expecting something even bigger than what you are going to offer. Oh, and cast more minorities, Miuccia. I heard it can increase your global sales. 🙂
Written by: Harry Go
For more of "The World According to Harry," click here.