The spork has to be one of the best culinary inventions known to man. Who would of thought to combine the scooping action of a spoon and the poking sensibility of a fork? And just when you thought it couldn't get any better, the inventive travel store, Flight 001 has given us something to up the ante when it comes to hybrid culinary gadgetry: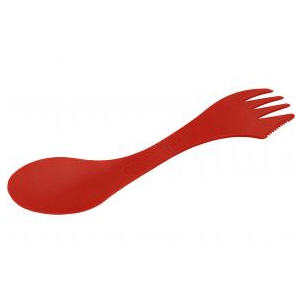 It still called a SPORK, but one of the plastic prongs on the fork end can be used as a knife! How exciting is that?!
To purchase this revolutionary piece of kitchenware, visit Flight 001's website or, for those of you folks in San Francisco, visit their store in Hayes Valley (525 Hayes Street). And while you're there, swing by Paulette and get yourself some macarons. My mouth is actually watering by just thinking about those pastel colored confections.