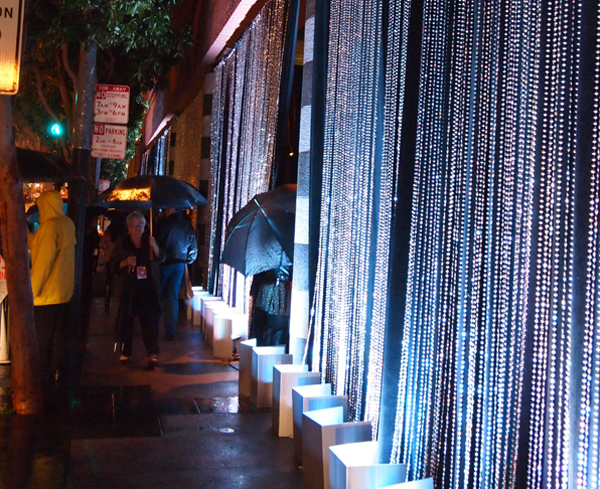 The city's finest socialized at the SFMOMA Modern Ball Wednesday evening. They took part in a highly anticipated fundraising gala with three amazing venues!
The night took off at the Gala Dinner where guests wined and dined at a five-star spread catered by McCalls catering and were also entertained by the Hot Club of San Francisco. Google executive Marissa Mayer was spotted wearing Badgley Mischka and another fashionable woman was spotted wearing a print inspired by artist Jeff Koons, Catherine Bigelow reported in the Chronicle.
Follow the jump to read more!

Guests also participated in a live auction, which featured a work of art by guest artist Doug Aitken and other art/travel packages. The proceeds go to many of the museum's programs as well as innovative educational programs allowing students, teachers, families and community members to access the museum at a discounted rate or for free. The annual event, which started in 2005, has successfully been retooled in recent years to attract younger supporters, who were particularly noticeable at the Post-Modern dance party starting at 9 pm.
During the pre-party at The Supper Club, patrons mingled while sipping on Chandon Champagne and Patron Signature Cocktails while tasting victuals from McCall catering.
They walked around showing off their designer duds and crowded around luxurious lounges. They tapped their shoes to DJ CAMS and really got moving during a performance by the band Poolside.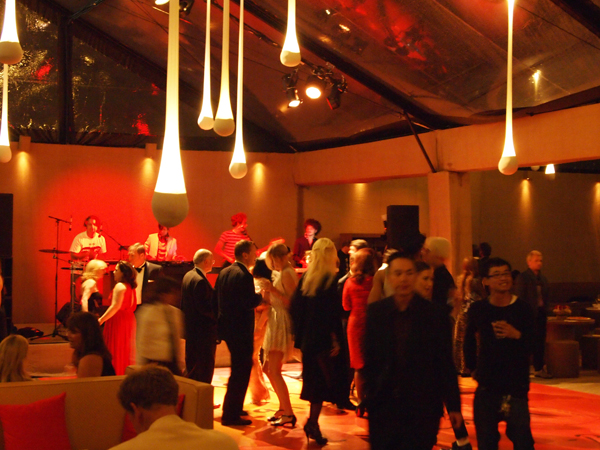 Poolside plays for the crowd.
Stanlee Gatti did a fabulous job of decorating the place; the ceiling was lit up with dozens of oversized light bulbs that were strewn in rows across the ceiling and weighed down with sand. I took in the Picasso-inspired room while devouring countless elegant bites. A long train of food split the room in two, with piled high lamb shanks and a plethora of gourmet sushi. When the dessert was brought out I couldn't help but indulge in a plate of berries as well as the mini-donuts served in hand-held paper cones.
Walking into the Post-Modern Party, I was greeted by a stunning light installation that was placed high-up behind the dance floor. A multitude of singular bulbs were scattered together in a formation that gleamed and sparkled. DJ Vin Sol was mixing it on a high-tech stage fitted with surrounding screens and huge speakers. The museum was no more. What was now in front of me was a full on Modern Ball.
I sipped on my grapefruit cocktail while tasting different hors d'ouvres around the room. I couldn't help but join in on the dance party once Chromeo got started. Groups of girls moved to the beat in sky-high heels and floral print cocktail dresses.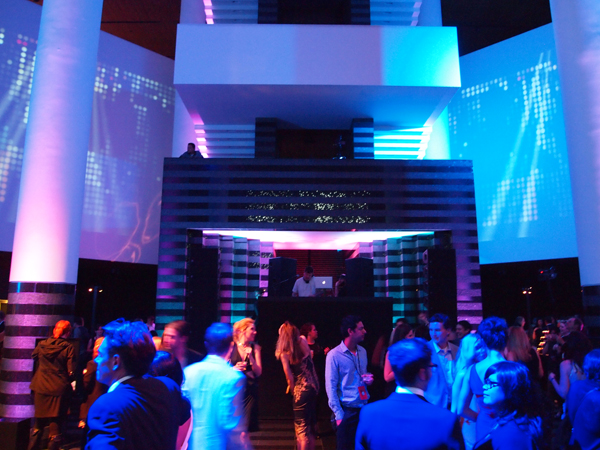 Chromeo takes the stage.
The gentlemen wore a mix of suits and ties, with some more casual in blazers and button downs. After playing a few of their own hits, Chromeo slipped in a Whitney song, then some 2Pac and even a Missy Elliott number. But it was only after they began to play the infamous Thizzle Dance that the crowd went wild.
Dave 1 (half of the Chromeo duo) lent over his microphone and shouted, "This one's for you San Francisco."
He paused: "When do you ever get to hear this song at the MOMA?"
Everyone nodded in agreement and the party went on – until 2am. It was a very modern night.
 Written By: Ashley Castanos