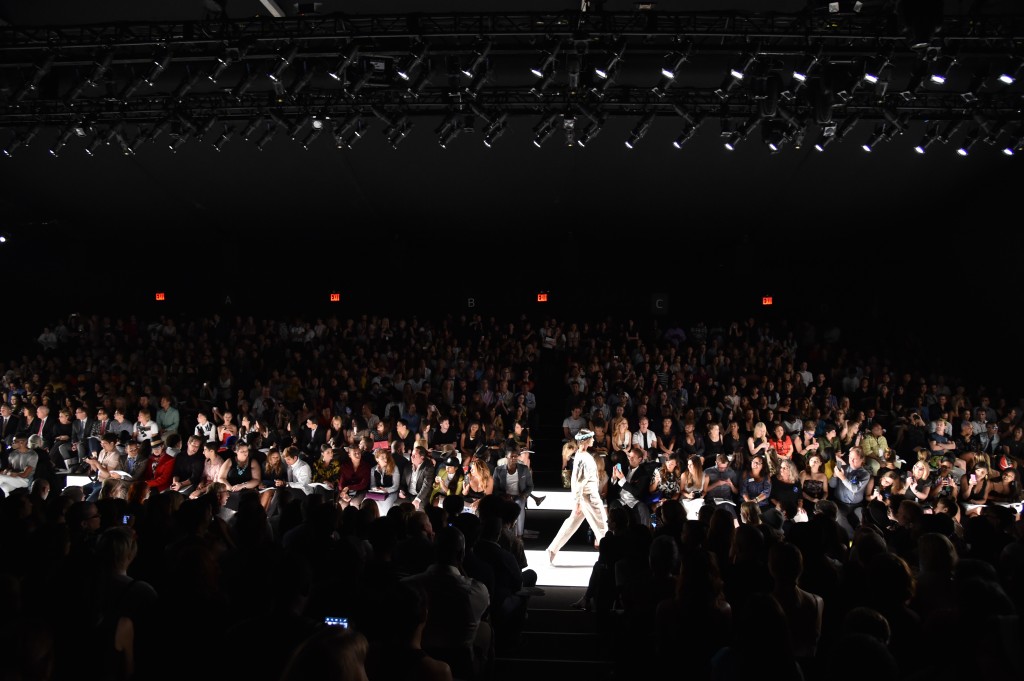 It's hard to believe that it's already been days since 12 Academy of Art University School of Fashion designers debuted their Spring 2015 collections during Mercedes-Benz Fashion Week at Lincoln Center.
In case you missed it—here is a quick recap of the show, so please follow the jump to read more!
A half hour before the show, the Lincoln Center Theater was packed with style-savvy fashion editors, industry press, world-famous fashion icons such as celebrity photographer Nigel Barker and supermodel Shaun Ross and of course, proud families and friends of the designers. It was another full house for the University to say the least.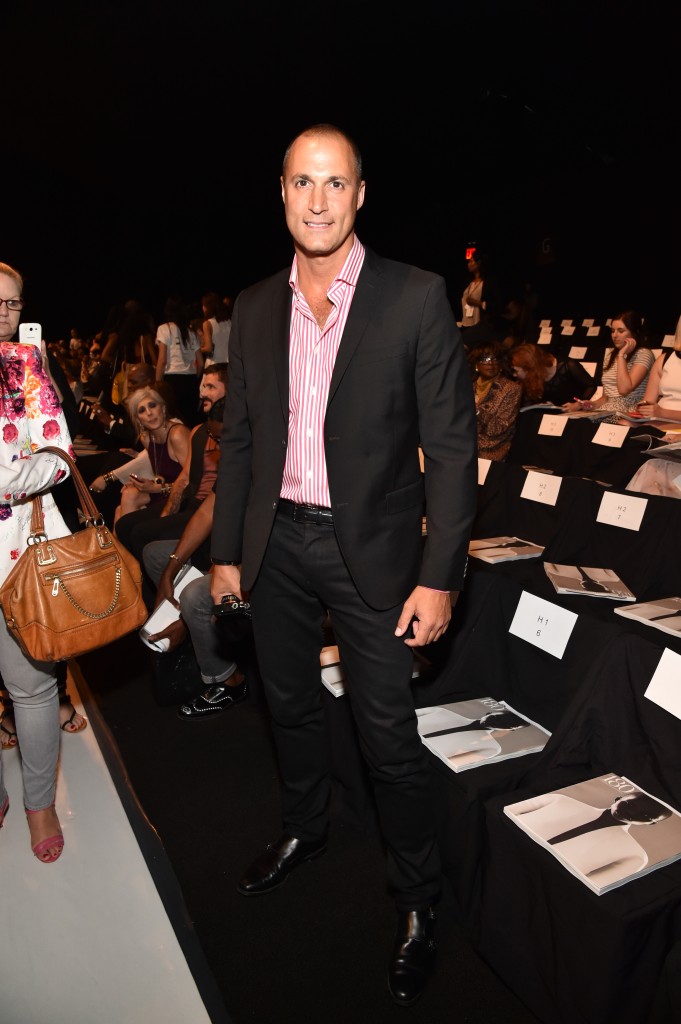 Sparsely lit by the runway spotlight, model Stephanie Joy Field opened the 10th season of Academy of Art University show at Mercedes-Benz Fashion Week. Models walked out with a stunning linen and knitwear collection designed by Mia Jianxia Ji, M.F.A. Fashion and Knitwear Design. Drawing inspiration from Ana Rajcevic's art collection, she used the texture of knitted fabrics to evoke the shapes and feelings of a unique visual interpretation of animal anatomy, suggesting strength, power and sensuality that takes humanity together through the shared journey of evolutionary fantasy.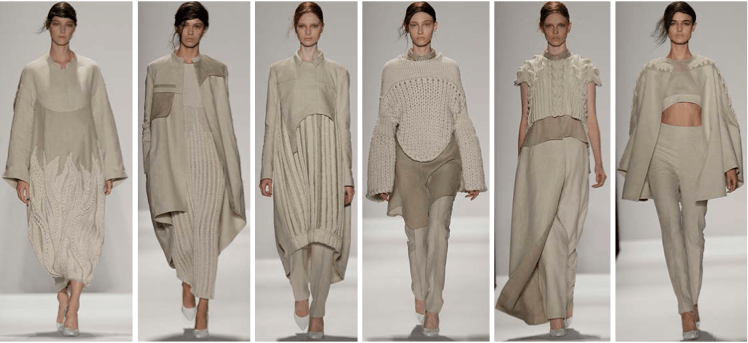 Designed by Wei Bai, M.F.A. Fashion Design, a mix of causal sportswear and tailored silhouettes announced the innovative collection that came the next. The menswear and womenswear were a perfect counterpart in the black silk collection that featured tomboyish, tailored silhouettes that were reminiscent of neo-Edwardian Teddy Boy style, and yet had a feminine twist with slightly flared dresses and special layers on the shoulders.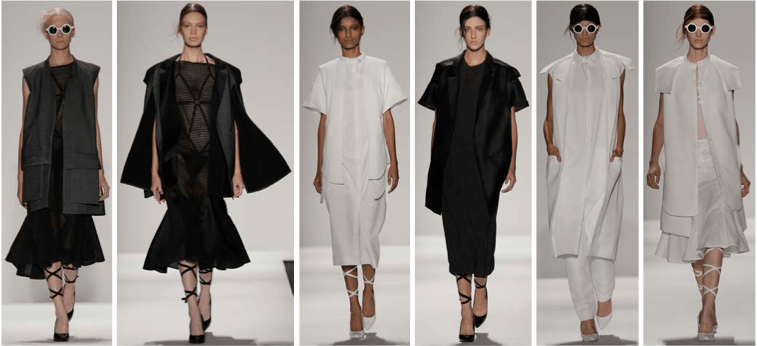 The collection by Madison Detro, M.F.A. Fashion Design, was intrigued by the angles found in the Le Corbusier's architectural work— the famous chapel Notre Dame du Haut de Ronchamp. Fabricated mostly from burgundy lambskin leathers and calf suede, the outfits were cleverly matched to leather sun visors, the savviest of spring accessories. Madison's designs explored the development of contemporary cross-image in fashion and architecture. Geometry and imbalance as a catalyst for beauty suggested notions of mutation and evolution.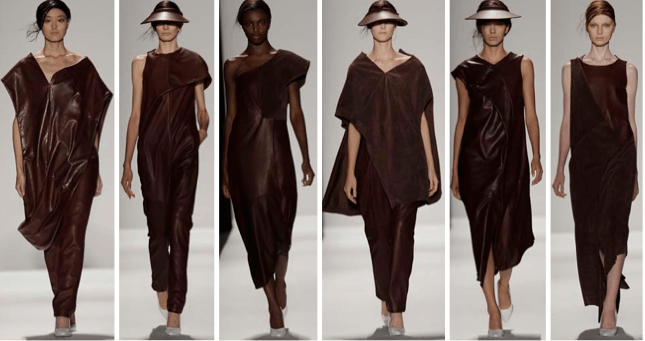 Inspired by the concept of "imagination traveling," the collaborative Spring 2015 menswear collection chose an array of crisp, pastel prints that were a mishmash of patchwork. Made by an unprecedented seven M.F.A. Fashion Design students: Asiyat Tsalikova, Jihyun Kim, Jingci Wang, Liz Li, Max Lu, Yaqiong Zhou and Yin Yang, the collection is a series of beautiful, eye-popping mash-ups, including playful fabric combinations, vibrant color palettes and strong pattern mixing. The designers aimed to instill in men everywhere a sense of playfulness and friskiness for their wardrobes.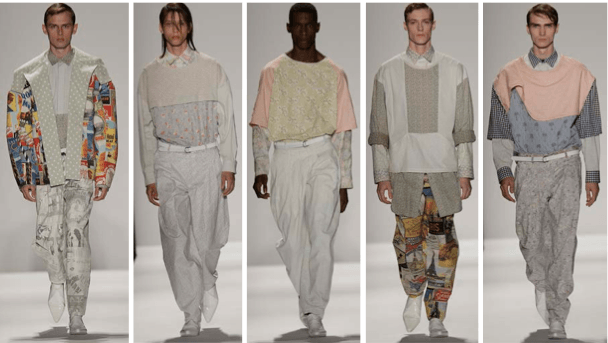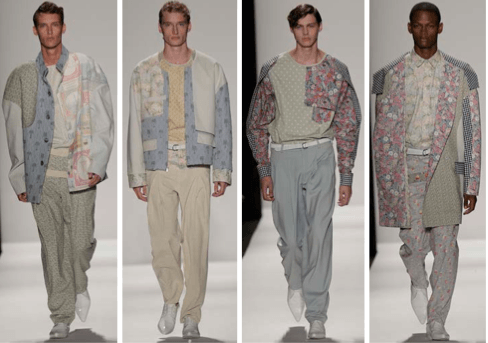 Die Zhou, M.F.A. fashion design, presented a decidedly Spring collection that was done in pale blues and other pastel colors. She took inspiration from the beauty of the natural environment, such as monarch butterflies and blooming flowers. A fabric collage technique added dimension and textural layering to the clothes. The garments juxtaposed soft, pastel-colored boucle fabrics with unexpectedly strong-shouldered silhouettes and built-up volume in jackets and trousers.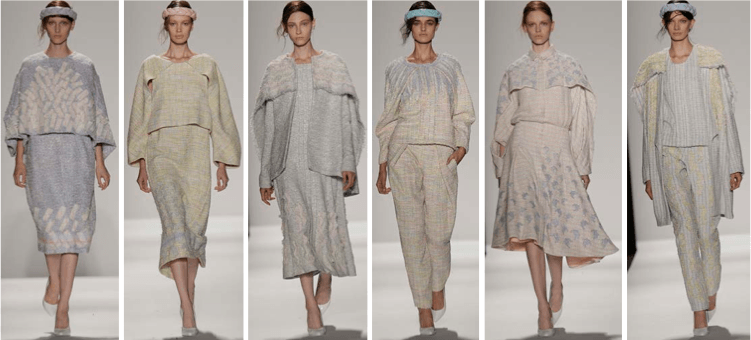 The final looks down the runway transported the audience from the modern New York City to traditional Japan. M.F.A. Fashion Designer, Szu Chi Huang,presented a collection that was designed for speed, travel and freedom of movement with her concept of translating traditional Japanese samurai armor into modern clothing. The intricate detailing of the clothes was the true standout element of this collection. She used leather and mesh woven together to mimic the texture of samurai garments, while achieving a three-dimensional feeling of armor that is compiled from many small pieces.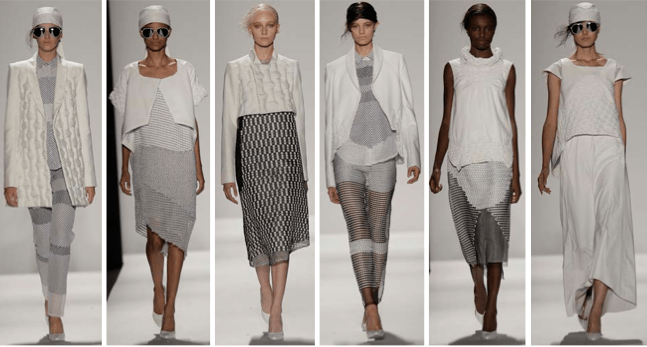 Everyone in the audience held up their cellphone cameras, snapping away as the last looks passed by. As the lights came up for the finale walk and designer bow, the Theater erupted into applause. The excitement exploded at the same time backstage—it was a celebration for the success of the show after many sleepless nights working on these unique collections. The designers all hugged each other, feeling a mixture of pure joy and utter exhaustion. Although the show was over, it's just the beginning for these 12 talented designers.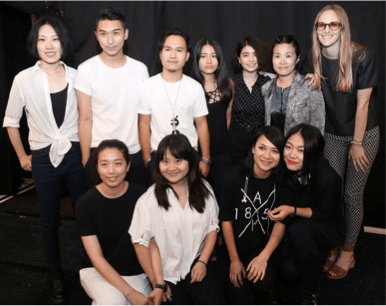 Written by: Dorren Du