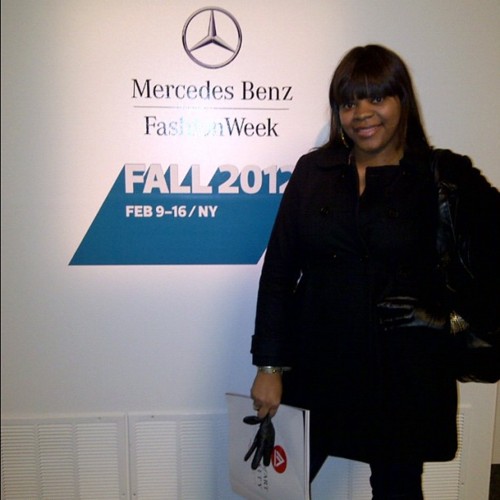 Name: MJ (Marjani Sykes)
Where do you live? Atlanta, GA
What is your area of study? MFA Fashion Design
What is your current occupation?
I am an independent fashion designer
If you were to die and come back as [a fashion icon], who would it be?
Either Diane Von Furstenberg cause let's face it she was a princess and she is gorgeous – oh, and she has the most eclectic and exciting design aesthetic ever. Or ☺ John Galliano, I know, I know he is not on everyone's favorite person list right now but man, oh man, the art he creates is without a doubt amazing. I would just want to be in that head, who thinks like that?!?!
What is your most treasured possession?
Other than my family, pets and friends, I would say my Louis Vuitton suede, square toed, chunky heel pumps. They have 2 silver balls on the front, one large, one small with the LV emblem and flower. I LOVE them. I have never seen anyone with those before so when I wear them I feel like a D-I-V-A and they go with EVERYTHING! And… my Michael Jackson OPUS, it is the most beautiful "book" ever. It has the awesome pictures and stories about him, he was such an icon and a wonderful human being, the OPUS just highlights his assets.
Who are your favorite [fashion] writers?
Rachel Strugatz – She writes for WWD she does accessories and social media. When I read her articles, I feel like I am learning something new in a fun way. WWD has their finger on the pulse of everything fashion and I think Rachel writes in a way that helps you find your way in this complicated fashion world. I follow her on Twitter and her tweets are very amusing and all her!
Follow the jump to read more!
Which talent would you most like to have?
The talent I would most like to have is the ability to draw WELL. I have seen the most beautiful fashion illustrations and I just want to be able to do that. I know how I want something to look but it just doesn't come out like my vision. I mean I am not as bad as stick figures but, I want to draw those long statuesque croquis with the flowing garments!
Which [items in your closet] do you most use?
My black pointy toed pumps and black jeans. It is my uniform, I could wear that everyday! It is the easiest, chicest outfit and I can just put any kind of top with it. Dressed up or down, with or without a belt. I could not live without them. I have a several pair of black jeans but all with the same idea, slim, slightly boot cut and low rise. With my pumps 4.5 inches, mid vamp – sexy and simple!
What is the quality you most like in [yourself]?
I can be a crazy head sometimes. I like that I have ambition to do out of the ordinary things and that there is a side that filters all of that madness! I would love to travel with Cirque du Soleil MJ Immortal show and be a pole dancing acrobat but there is the side of me that says "hey let's take a pole dancing class twice a week ok?" I taught myself to sew and that was just from the sheer desire to be a designer. There was no one around to show me things so I just went on eBay, bought the machine and some fabric and wreaked havoc! It all came out good though, I like that I take chances like that and know that those skills have to be honed.
What do you consider your greatest achievement?
My greatest achievement(s) are my collections and my business, EmJha. I went from ill-fitting garments to cohesive collections that models could actually fit. I am on my 7th collection and I feel such a sense of achievement and accomplishment. I will keep propelling myself forward and learning the lessons!
For more Proust [Fashion] Questionnaires, click here.