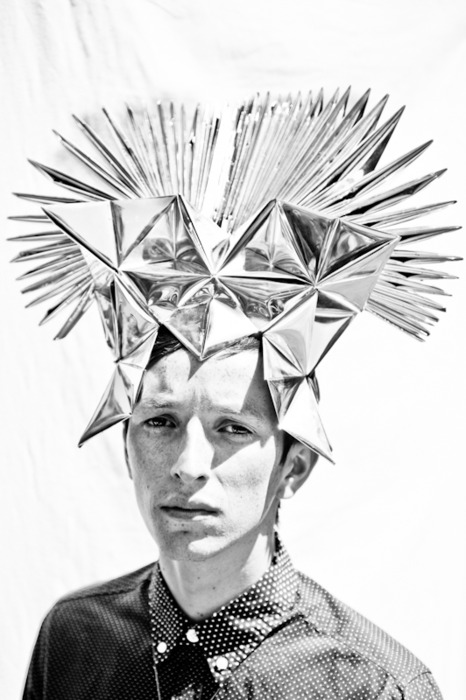 Photo Courtesy of TEED.
Totally Enormous Extinct Dinosaurs (TEED), aka Orlando Higginbottom, is an amazing musician from the UK, known not only for his distinct electronic sound, but also for his seriously awesome head gear. No – not the kind of head gear you have when you're twelve – amazing headdresses made from feathers, fabric, fur, wire, mesh, and everything in between. He is searching for a new original headpiece to wear during his performance at Bestival on the Isle of Wight, one of the UK's biggest summer music festivals, and he wants you to design it!
The headpiece can be as crazy and fantastic as you want, just keep in mind that he needs to be able to move and perform in it (and his ears can't be covered). We had the chance to see TEED when he was in town performing at Rickshaw Stop last Fall, and it was one of our favorite shows EVER – and that's saying something. Watching him perform – singing, playing the keyboard, and mixing simultaneously – is literally mind blowing.
Follow the jump for details!
The winning head piece will be produced by TEED's design team and will be worn by him at Bestival, with an audience of over 55,000 people (it will also be televised in the U.K.). The designer will be flown to Bestival to meet TEED and enjoy the entire festival – as well as receive coverage on his website and social media channels.
We know you were all feeling inspired by Philip Treacy's visit last week – so let's keep the millinery momentum going. Watch the videos below so you can fully understand TEED's amazingly dynamic performances and gain inspiration for your original design – good luck!
All entries must be submitted by June 3rd – click here for more details and to enter!