This has been one of the most challenging weeks so far. The semester is wrapping up and the final projects are starting. Creating a denim collection for Dynamics in Fashion and writing a final paper for Textiles class might seem like a light load, but when you pair it with a large amount of reading assignments and quizzes the pile gets a little bigger.
Imagine adding on networking, scheduling, casting calls, go-sees, and shoots. It's hard for me to know how my week is going to end up because I receive last minute castings and bookings from my agent, even when I have shoots already scheduled. Re-working my modeling schedule and making sure I complete all my course work can be very challenging.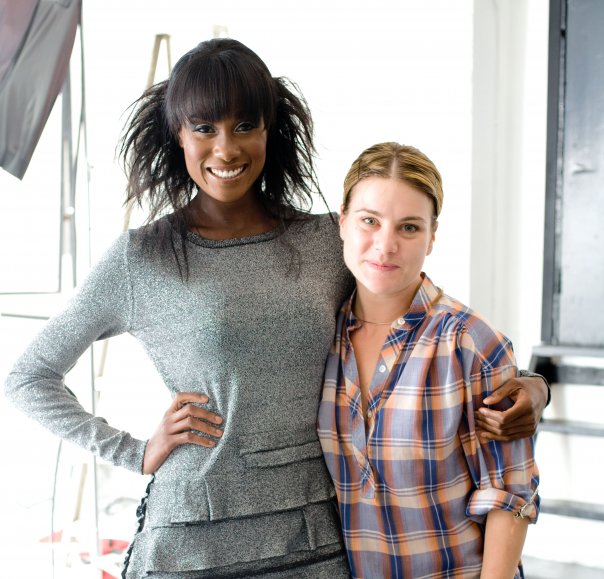 Erin (left) with makeup artist, Rebecca Butz
This week I had editorial shoot with the Oakland-based magazine, Mocha Bride Magazine. The great thing about this publication is that it displays images of women of color. This is a great opportunity for me and other ethnic models. There are not that many print opportunities in the Bay Area for ethnic models and being chosen as one of their models for their winter issue is definitely a blessing and a big opportunity.
The shoot was originally scheduled to take place in Tahoe but got canceled and rescheduled to shoot at the San Francisco Regency. A total of five models shot for the magazine in gowns by Paris Connection. The theme of the shoot was "Winter Queen". Christmas trees, fireplaces, and wide-open atriums were used as the backgrounds. The editorial was shot by Dan Hood, a heavily published, Northern California based photographer. The winter issue comes out in January and I am excited to see the final product. Sometimes I feel overwhelmed with coursework and modeling and I don't know how I will get it all done, but it all seems to work out in the end!
Written by: Erin Leeper
Click here to read more of "The Model Life of Erin"