School of Fashion Alumna Carolina Arango Lands Dream Job Mid-Pandemic.
By Hailee Cerva, MA Fashion Journalism
Coming from a Fashion Design background in her home country of Colombia, School of Fashion alumna Carolina Arango moved to San Francisco to pursue a master's degree in Fashion Merchandising, a career path she felt would connect the dots between design and the business side of fashion. Arango states, "I wanted to see what happens after the creation. A good designer needs a good merchant; I am merging both of them to be more objective."
Arango graduated from the School of Fashion with a degree in Fashion Merchandising this past May during one of the most challenging times our nation has faced. Landing a job during the middle of a pandemic while many brands had hiring freezes was no easy feat. Arango's experience in fashion design and merchandising, along with her dedication to networking and connecting, is what she feels helped her land a dream position at Athleta as a Site Merchandiser Coordinator.
"Even though it was very hard to connect with people because we couldn't meet anybody, just remaining optimistic and positive and using tools like Linkedin, emailing, connecting with people via zoom, and working on my portfolio to show my passion despite the struggles of Covid I have been able to get two jobs, which was awesome."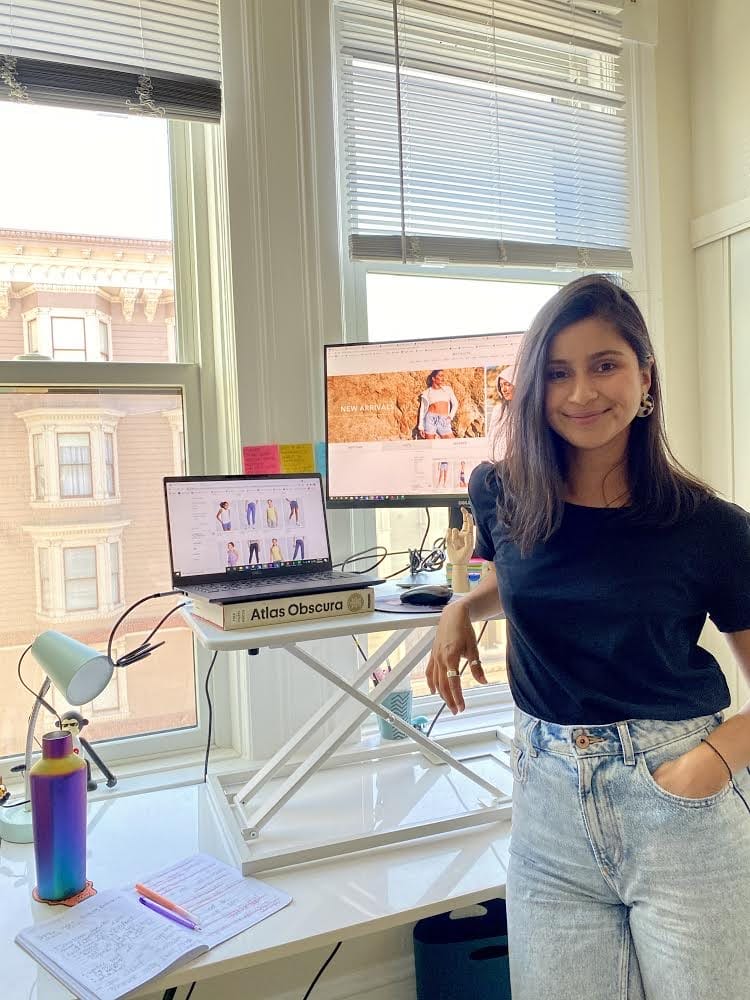 Working as the Site Merchandise Coordinator for Girls, Swimwear, and Bras, Arango has made the connection between her past as a fashion designer and her current role in fashion merchandising. "My favorite part of the job has been to realize that my past experience as a fashion designer does merge with fashion merchandising, and it's really connected. It makes me feel like I am on the right path, and I am doing a job that I really love." Arango also has enjoyed the working environment and company culture that Athleta provides. "I feel at home working with inspiring women that give their 200% every day and still have time to ask how I am feeling and offer help when needed; every person in my team has a voice and can freely suggest and collaborate, this is amazing and doesn't happen in all the companies out there. I am definitely a lucky one to have landed this job."
When speaking about advice she would give to current fashion students, Arango emphasizes how important it is to connect and put yourself out there. Being optimistic and being flexible are vital elements she believes helped her in her job search. Arango landed her first two internships in the city by walking around and looking for "help wanted" signs. Her excitement and energy are what have helped Arango find success in her job search. "Be open and be able to connect. Don't be afraid to ask questions in class, and don't be afraid to write that message on Linkedin."