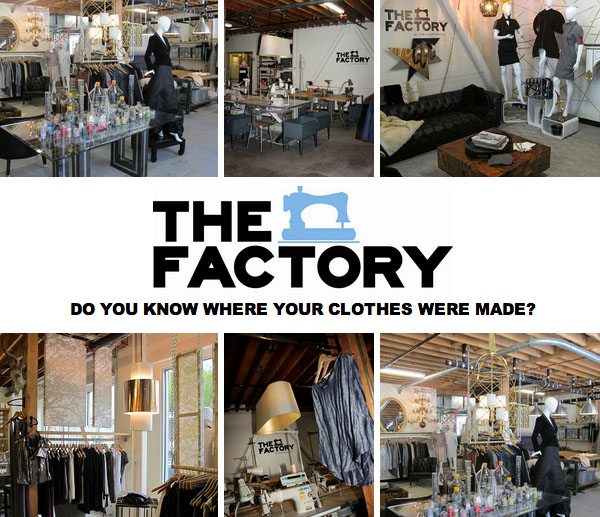 The Factory is an unrestricted retail space, within a working factory, consisting of contemporary basics, collaborations, and one-of-a-kind pieces, made to complement the local production efforts of The Evans Group. It serves as a launching pad for independent designers, by providing fashion development packages and production without minimums, and it keeps The Evans Group's seamstresses working year-round.
Our internship opportunities are dynamic, hands-on, and highly rated by former interns, as an excellent learning opportunity to see first-hand the apparel manufacturing process. As a facility aimed at promoting independent design, our interns experience the entire process of clothing design, from inspiration, through production, to retail sales, for many sought after up-and-coming designers.
We are currently seeking interns in the following areas:
Social Media – We are seeking 1-2 interns with a strong command of social media (Facebook, Twitter, Tumblr, Instagram), to assist with daily posts from both The Factory and The Evans Group. The candidate should have a strong ability to create posts that bring attention to the brand, increase our following, and are interesting to our fans. A particular emphasis will be on promoting a large event in November, and documenting the process of preparing for it, in a way our readers find engaging. The candidate should have their own computer, and be able to commit 8-20 hours per week, on a consistent basis.
Follow the jump to read more!
Fashion Design/Merchandising – We are seeking 2-4 interns to assist in the process of building a large-scale fashion event, to take place in mid-November. The event will be based on Yves Saint Laurent in Marrakech, and will be a live photoshoot presentation deriving from iconic YSL photographs and designs. The intern will assist with clothing design, the development process, and planning of the event. This will include the following: coordinating models, assisting with the development of show designs, helping to orchestrate a promotional photoshoot, assisting with the set design, and other tasks related to planning and execution. The candidate should have their own computer, and be able to commit 8-20 hours per week, on a consistent basis.
Please note that both internships have the opportunity to extend until the end of year, but that is not required. Please send resumes to: info@evansgroupinternational.com. No phone calls please.