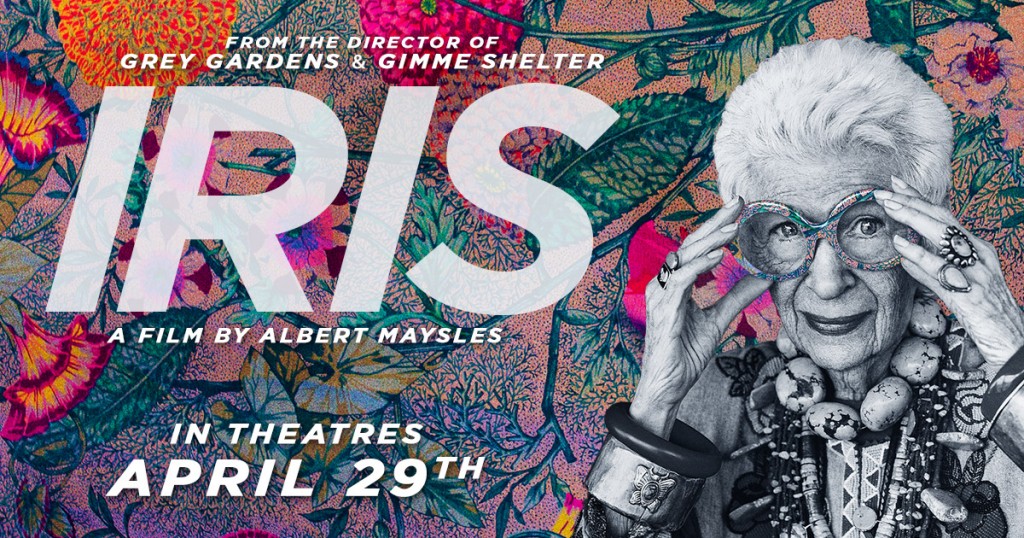 A woman who has been shopping for decades has a lot to tell the world about style. The documentary shot by director Albert Myles, takes a close look into the life and closet of Iris Apfel, the ninety-three year old woman who might just be the most wise and charming fashion icon on the planet. She is a successful interior designer, businesswoman, flamboyant dresser, and not to mention costume jewelry hoarder, with a vibrantly colorful collection of clothing. With this documentary also comes Iris' intelligence, wit, and her secret to a 67-year-long marriage; It is a simultaneous lesson in life and style.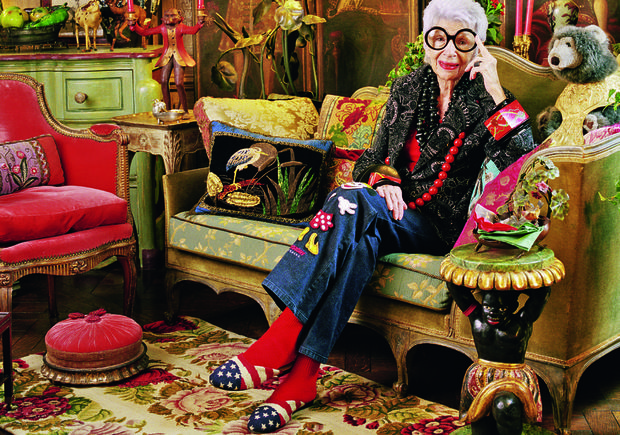 We learn some of Iris' self-taught shopping tactics, such as uncovering the art of haggling, she tells us "haggling is part of the game – know where and when to do it. You could be doing a disservice to the merchant." Iris speaks in a very matter-of-fact fashion about the things she has learned over the years. There's a reason why her phone rings off the hook; everyone wants straight-forward advice from a wise old bird who has seen and experienced it all.
The documentary tells not a story so much as it a personal profile and study of Iris' life, how she lives and practices her assorted madness, how she came to be seen as a style icon, when she showcased her own costume collection 'The Strange Lady' at the Metropolitan Museum of Modern Art in 2005, and how she went into business with her centenarian husband Carl, who also plays a part in the film. Old World Weavers, is the luxury fabric company they set up back in 1950, traveling together all over the world to find inspiration for the restored and created textiles they had woven. We get to see some of Carl's 35mm films of their travels, along with many still photographs of their exciting adventures. Iris' whole life has been documented.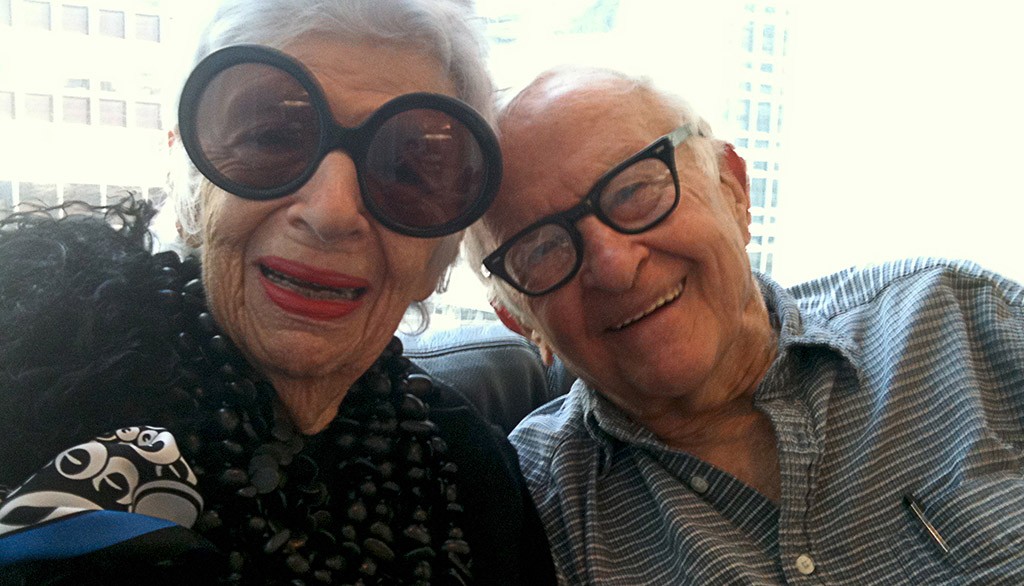 Iris, with her signature oversized round spectacles, and her myriad of accessories worn over and on top of one another, is an interesting woman who has captivated the hearts of all ages. She likes that she is more interesting than pretty, which she says will get you by when you're older. Her eccentric, upbeat, and happy go lucky personality is what people find endearing about her. The cheerful music accompanying the documentary embodies Iris perfectly.
Her style is also completely unique. Iris grew up in the depression days; perhaps why she wears a sometimes overwhelming amount of color and pattern. Color she says is so important: "color can raise the dead." She reminds us that fashion doesn't always have to be so serious. "All the young people in the city think they're so stylish wearing all black," she says. "They're not, black is not a style it's a uniform."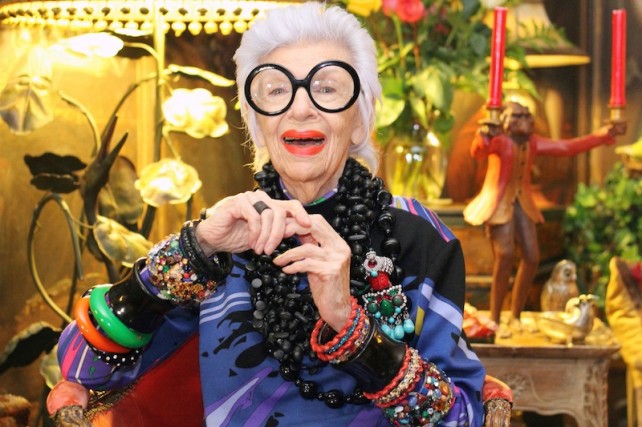 Iris doesn't judge others' style though, and insists that you're better off happy than well-dressed. Iris seems to be both, and it must be because for her style is fun, getting dressed for the party is the best part, and the shopping is what excites her. She likes the process of finding something more than actually wearing it. You break into smile when you see the thrill that she gets from finding a piece of exquisite fabric or a cheap but outlandish piece of jewelry. Others see the way she dresses herself as art in itself. Several interviews are scattered throughout the documentary from industry people such as the Creative Director of J. Crew, designer Dries Van Noten, and the Creative Director of M.A.C. Cosmetics, with whom she collaborated on a collection of her signature brightly-colored lipsticks.
Iris has remained a humble person in her years, and if you were to compliment her on her coat she'd probably say "this old thing?" She's not afraid to make fun of herself, and of her age. She even refers to being alive when the dinosaurs were roaming the Earth. It's a light-hearted, sweet documentary of a fascinating and sharp-witted fashion queen. If you're looking for a documentary about how to dress or how to style things together, this is not it. This is a life lesson about the importance of experimentation with style, being yourself, being happy and staying curious. Curiosity and a sense of humor, according to Iris are fundamental qualities of life. It's a feel-good fashion film that'll brighten your day. All Hail Iris!
Watch the official 'Iris' movie trailer here.
Written By: Faye Harris