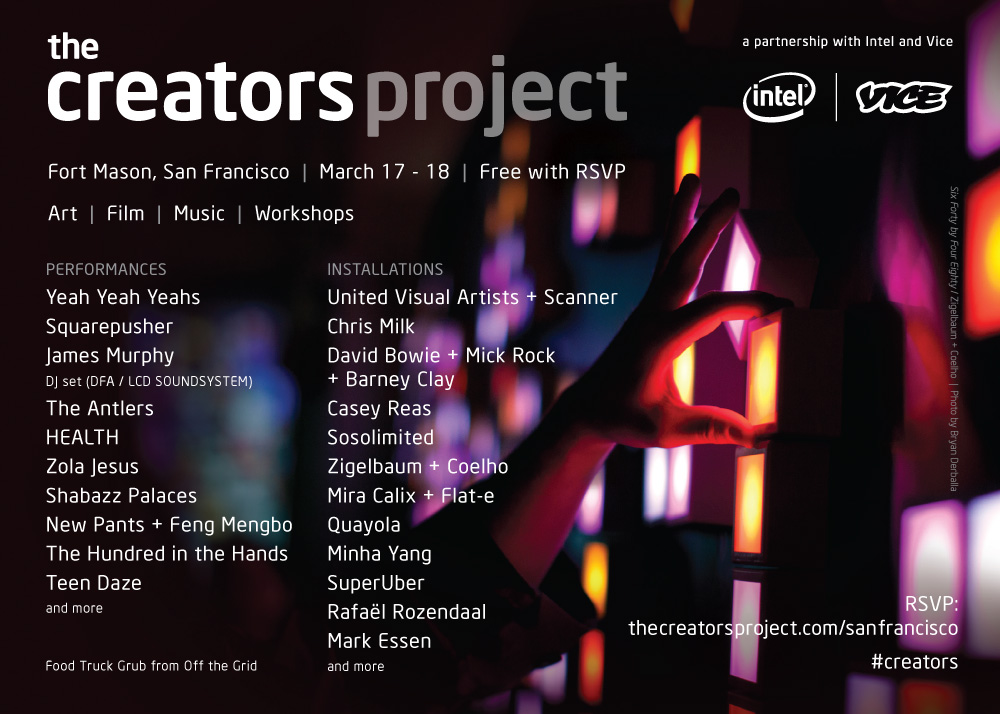 We were so excited when we first heard that The Creators Project was coming to the West Coast, even more ecstatic when we heard they were setting up in SF, and almost fell out of our chairs when we saw the lineup! But before we get into that – lets back up a minute. For those of you who don't know about The Creators Project, it is a collaboration between Intel and Vice Magazine working to create a global network dedicated to the celebration of creativity, culture, and technology. They support visionary artists across many disciplines who are using technology in innovative ways to push the boundaries of creative expression.
They'll will be taking over Fort Mason on March 17th and 18th, transforming it into a massive art and technology festival featuring multimedia art installations, live music performances, film screenings, and panels.
Headlining the festival we have the Yeah Yeah Yeahs, who put on a ridiculous show – not to mention Karen O always has the raddest outfits. James Murphy from LCD Soundsystem will be also be DJing alongside some "special visual surprises". And rounding out the day there will be performances from HEALTH, The Antlers, Zola Jesus, Shabazz Palaces, The Hundred in the Hands, and Teen Daze.
Follow the jump to read more!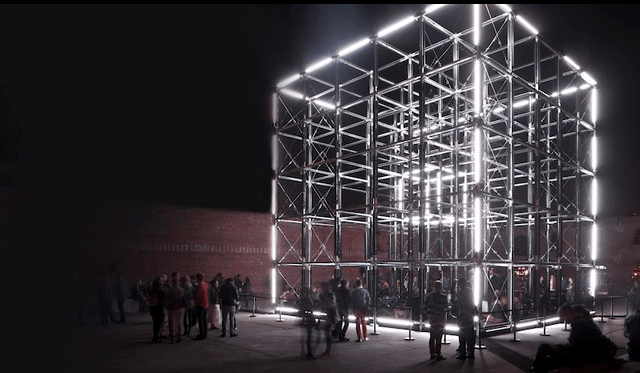 Origin by United Visual Artists and Scanner.
Art installations will include the 40-foot by 40-foot Origin by United Visual Artists and Scanner, My Secret Heart by Mira Calix and Flat-e, and Sixty-Four by Four-Eighty by Zigelbaum + Coelho. And all weekend long they'll be showing films and hosting panels such as Artist as Researcher and The Creative Potential of the 3D Web. AND, last but certainly not least, Off the Grid food trucks will be parked there all weekend long dishing out the best eats to the masses.
If this didn't already sound like the best weekend ever – we've got one more for ya – it's all FREE! Yes, you heard right. All you have to do is RSVP here. It doesn't guarantee your admission, it's a lottery, but be sure to RSVP now because they're sending out confirmations next week.
This promises to be a truly amazing festival, pushing the limits of creativity like never before. It's something you definitely don't want to miss.
For more info on The Creators Project, click here.