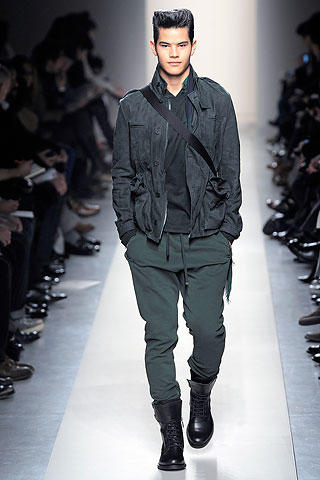 Photo Credit: Andrew Thomas
This season, Bottega Veneta takes notes from Leonardo DiCaprio's stint in the film This Boy's Life as well as A Single Man starring Colin Firth. Creative director Tomas Maier shows that men can be comfortable in the clothes, but still have an edge. Tattered jeans and leisure sweat pants were seen as a common thread in the collection as were tailored coats and military boots. Juxtaposed with structured and loose garments, the Bottega Veneta man has bad-boy sex appeal as well as a hint of boyish naïveté. That said, this collection has hardcore style that no one can ignore.
Submitted by Casimiro Llamas Jr., MFA Fashion Design
View the entire Bottega Veneta collection here.
Submit your own runway reviews of the men's Fall 2010 collections to fashionschooldaily (at) gmail (dot) com.