Before fittings we have to make sure we have enough garments to fit – it just can't be one or two outfits because that's just a waste of time. And of course, we have to book a model with similar measurements to our collection. We are going for the NY fit mostly because we are showing in NY.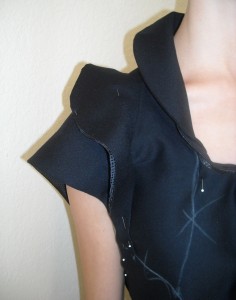 Anyways, the model shows up for about a 2 hour fitting. We have the camera, fitting/corrections sheets, and many pins ready at hand. During the fitting we simply "fit" the garments to her body. They are not too tight – we are not going for the "skin tight" look. If clothes are too baggy, we pin out the excess. If the darts or seam lines are sewn in the wrong spot, we chalk a new seam line to move them. We also look to take out seams if there is an unnecessary or excess seam line.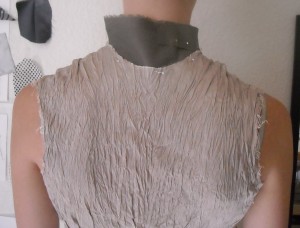 For this collection, since we are using a lot of plaids and stripes, we look at the direction the plaid/stripe-cut on straight grain or bias; whether we would be able to match up plaids, etc. Another major design element we look at is the hemline: Should it be lengthened or shortened? How high should the kick pleat go? And so on. We are looking at silhouette & proportion and making sure those elements are consistent throughout the collection. Other things we look at are necklines – dropping or making higher, collars, sleeves, buttons, other closures, and armholes – especially on something sleeveless
I take photos of each outfit and/or garment to keep a visual outline on the board for the collection. I also take pictures for future reference for alterations. I keep vigilant notes of the alterations that need to be made because we might not be able to get to them for a week or so, but the photos are just another way to keep track.
Pictured above are photos Alyssa took of toiles to keeping track of alterations.
Click here to read more from The Alyssa Diaries.