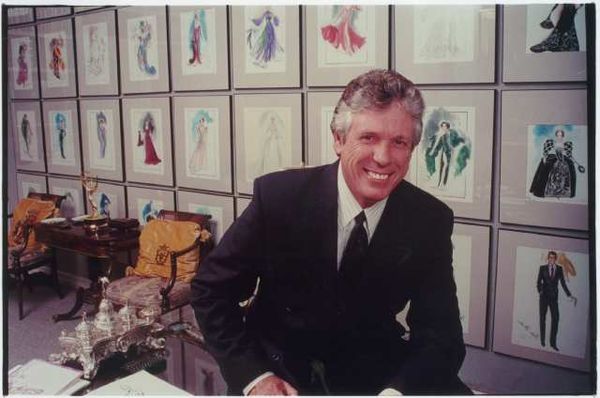 Expertly deduced by Tremaine (for a second week in a row!), that guy is Nolan Miller, famed Hollywood costume designer, best remembered for his work on the hit '80s television show Dynasty. He had longed dreamed of being a studio designer, but graduated college just as the studios were closing their design departments, and so found work in a Beverly Hills flower shop.  The shop was frequented by many Hollywood stars, and Miller met his first client there – Carolyn Jones, a contract player at Paramount, and then-wife of Aaron Spelling. Jones asked Miller to designer her clothes for a press junket, clothes that caught the eye of Spelling and sparked a creative partnership that would last decades.
When Spelling turned to television production, he hired Miller to design the costumes for the Zane Grey Theater series. Miller went on to work on all of Spelling's TV movies and series, including The Love Boat, Charlie's Angels, Gilligan's Island, and of course Dynasty. Miller loved over the top glamour, and on Dynasty his creativity exploded. Spelling gave him a $30,000 an episode budget, and told him, "I don't want to see anybody in the same thing twice." The Dynasty look became a hallmark of glamorous power dressing, and Miller even joked, "When I'm 90, my name will still be synonymous with shoulder pads."
Miller also owned an atelier and dressed private clients including Joan Crawford, Lana Turner, Barbara Stanwyck, and Elizabeth Taylor. Sadly, Miller passed away a few weeks ago from lung cancer, but he will not be forgotten. His work will remain in the Hollywood lexicon for years to come, and we'll always think of him whenever we see a particularly bold shoulder.
Follow the jump to read the significance of the clues!
Clue #1: A close friend of Elizabeth Taylor – Taylor was a client and close friend of Miller for years, even wearing his designs to the Oscars.
Clue #2: He had an affinity for shoulder pads – there's no denying it. Every outfit on Dynasty had shoulders out to there, and Miller even joked, "When I'm 90, my name will still be synonymous with shoulder pads."
Clue #3: He is an Emmy Award winner – Miller won an Emmy for Costume Design in 1984 for his work on Dynasty, and was nominated a total of six times.
Amazing guess Tremaine – and thank you everyone for playing!