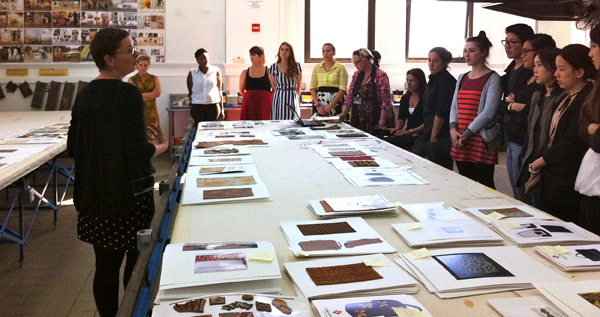 Susan Ross from Bridge of Weir presents to textile design students. 
We've long known that our textile students are ultra talented (just take a look at the prints from our fashion shows if you need proof), but when we saw what they created for a recent textile design competition we were literally blown away. The competition was put on by Bridge of Weir, a leather manufacturer based in Scotland that provides materials to some of the world's top luxury automotive companies, and they asked students to take some of their leather materials and use them in an innovative way.
The students in FSH 474 and 476 – BFA Applied Textiles, and students in FSH 801 – MFA Applied Textiles, came up with some amazing concepts, manipulating the leather in a number of ways including weaving, cutting, printing, and even embossing. "Our goal for the project is really just to promote creativity and to re-think the traditional way that you see and work with leather," said Bridge of Weir designer Susan C. Ross, who visited the fashion school to judge the students' designs.
Follow the jump to read more!

Textiles designed by Eunji Hwang. 
All of the students presented amazing work, but three students caught Susan Ross's eye. Eunji Hwang, James Andy Thai, and Riki Henderson took top honors, being awarded First, Second, and Third prizes respectively.
Eunji Hwang combined her leatherwork with knitwear, even felting some of the pieces together. "I really enjoyed this project, it was expressive and experimental. I learned to work with different materials and appreciate them for their own special qualities," she explained.
James Andy Thai's wonderful textiles were extremely labor intensive, as he explained after the presentation: "The most difficult part of the project was trying to apply pyrography, which is a process in which you burn the surface of the item in order to achieve a design. The leather's finish was so strong it broke a soldering tool!" His hard work certainly paid off.

Textiles designed by James Andy Thai. 
And for Riki Henderson's project, she strove to "soften the look and feel of the leather and make a collection with many personal touches." She created a series of printed and cut-out patterns, and even made leather tassels and fringe.
Each student's work was remarkable – and such an accomplishment considering most had never worked with leather before. "Everything was so creative and obviously a lot of work had been put into it," noted Susan Ross. "And they really did everything I was looking for – they rethought the surface and the materials, using them in an interesting way. And they also realized what the end product was going to be, it was realistic." Amazing job!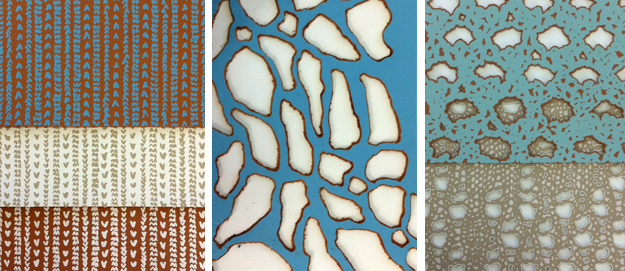 Textiles designed by Riki Henderson.