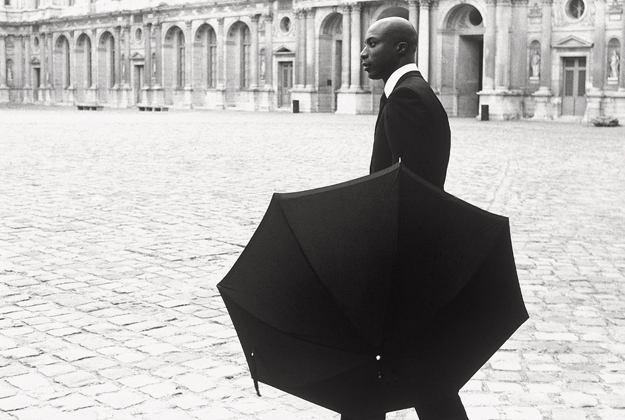 Ozwald Boateng in Paris. Photo by Jamie Morgan. 
Fashion documentaries have become majorly popular over the last few years – think films like The September Issue, Valentino: The Last Emporer, and Bill Cunningham New York, just to name a few. And now there's another one to add to the list – A Man's Story – the groundbreaking behind-the-scenes look at the life of Ozwald Boateng, one of Savile Row's most sought after designers.
Filming footage over a twelve-year period, director Varon Bonicos was able to get behind the headlines and chart Baoteng's singular dream to succeed. The film will make its State-side debut in New York on October 26th, and the following week we're hosting a special screening at the School of Fashion including a Q + A Session with Ozwald Boateng (via Skype) directly after!
Follow the jump for more info and to watch the trailer!
The event will also launch a special design competition for fashion students in the U.S., with 5 lucky winners earning the chance to spend one week in London being mentored by Ozwald Boateng and his team at their Savile Row headquarters.
We look forward to seeing you there!
WHEN: Friday, November 2nd  – 3:00 PM film starts – 4:30 PM audience Q+A with Ozwald Boateng via Skype
WHERE: Morgan Auditorium – 491 Post Street
**Transportation will be provided from Northpoint at 2:30 PM, and from 625 Polk and 180 New Montgomery at 2:40 PM going directly to Morgan for the event.
A Man's Story Trailer from Trinity film on Vimeo.