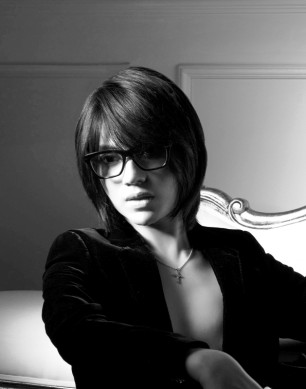 Born and bred in Jakarta, Tex Saverio is not a typical Indonesian name that gives a queer feeling towards fellow Indonesians who first heard about his talented persona. The amount of exposure that Saverio has gained caused many Indonesian fashion design veterans to frowned upon his actual talents and credibility that started at such a young age.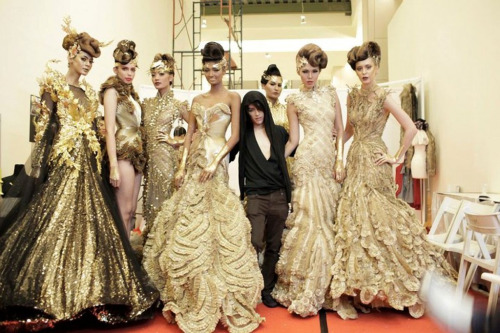 Such exposure was received by the young designer who clad himself in a uniform of black suit, jet-black straight hair that resembles a character straight out of a manga comic when Lady Gaga wore his black tulle gown from his Spring/Summer 2011 collection in the May edition of US Harper's Bazaar back in 2012.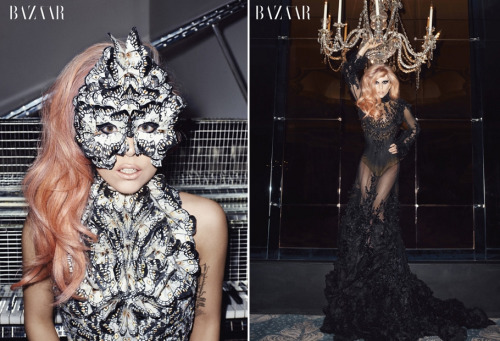 Having graduated from Bunka and Phalie Studio in Jakarta, Saverio's fashion career launched officially in 2010 through the label Tex Saverio Prive, which was oriented toward haute couture designs. Three keywords that describe his design aesthetics are: dramatic, theatrical, and spectacular. It came to no surprise that many has labeled him as "Indonesia's very own Alexander McQueen".
Other than Lady Gaga, Kim Kardashian has also worn a dress he designed specifically for the reality star for Elle's Magazine photo shoot in February 2013 as Kardashian graced the cover of the said magazine.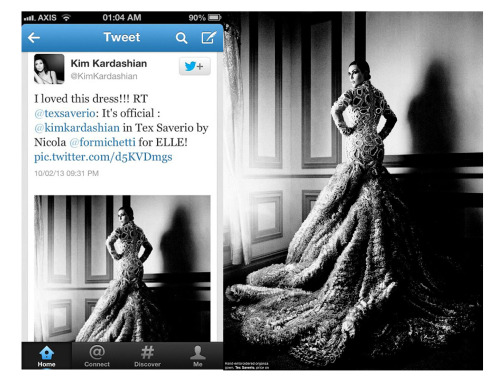 And of course, who can forget about the wedding dress that Saverio designed for Jennifer Lawrence in "The Hunger Games: Catching Fire"? Saverio received enormous amount of coverage and publicity thanks to his creation of magical white gown with organza corset and stunning Swarovski crystal embellishments that left many in awe upon seeing it on the movie screen.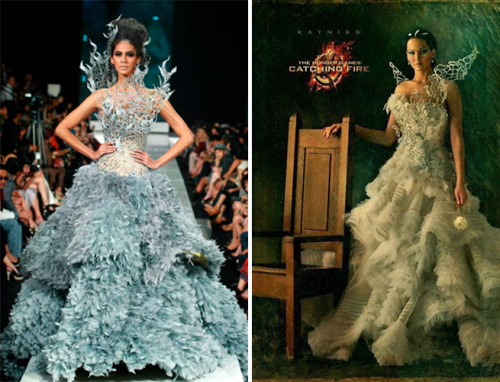 Eschewing traditional Indonesian aesthetic codes, Tex does, however, draw on the impeccable craftsmanship of local artisans to imbue his garments with a contemporary take on local heritage.
With a string of awards to his name: Winner of the Mercedes-Benz Asia Fashion Award 2005, Inspiring People Award 2011 by HP, Amica Indonesia Awards 2011 – Most Talented Young Fashion Designer, Tex's visionary approach and unique aesthetic has won him a cult following. His incredible creations will soon be more readily accessible in a new incarnation as a ready-to-wear line, which he is launching with the help of his business partner Faye Liu.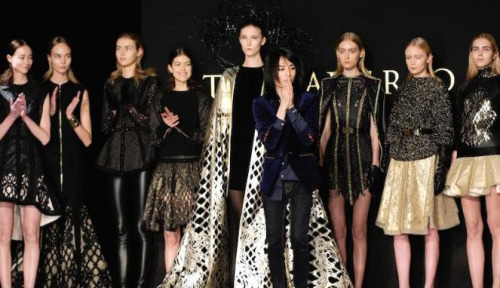 Having launched his ready to wear collection in 2014 that are meant for his international customers, Saverio has definitely raised the platform for Indonesian fashion scene to be accepted and recognized in the global fashion industry. In an article by Jakarta Post, Saverio stated that his ready to wear collection will be focused more towards the upscale market in the US, Europe, as well as in Asia itself.
"The House of Saverio will not only be an Indonesian fashion brand, but will also be a global lifestyle brand. It's going to be an empire," said Saverio who has successfully showcased his recent collection in Paris Fashion Week.
It is truly an honor to have such talented in the Indonesian fashion scene andthefirstlookbook cannot wait to see how Tex Saverio will open the pathway for other emerging Indonesian fashion designers to follow on his footsteps onto the global market.
Follow Tex Saverio for more updates on his collections:
Website: www.texsaverio.com
Instagram: @texsaverio​
Twitter: @texsaverio​
Facebook: https://www.facebook.com/officialtexsaverio