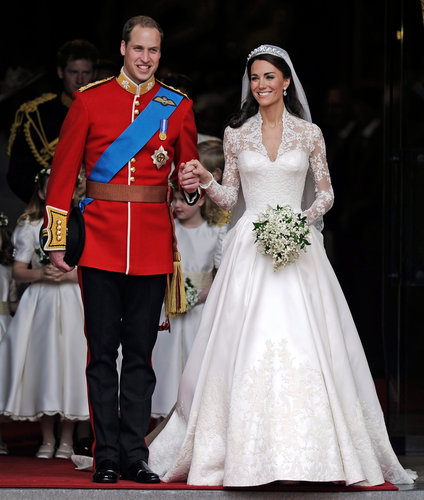 Photo Courtesy of Martin Meissner/Associated Press.
In a piece published earlier this week in the New York Times, Exploring the Grace in Lace, fashion journalist Suzy Menkes examines the newfound enthusiasm for lace, sparked by the Royal Wedding. "Since then, there has been a fashion frenzy for lace," she notes. But it is not the overtly sensual lace one might find in the boudoir that is causing all the commotion – rather, it is a more ladylike lace that has come into fashion. On Spring '12 runways, we saw delicate lace and eyelet at Louis Vuitton, Miu Miu, and Valentino. It was not used so much as an embellishment, but as "a surface texture laid on solid materials," for an effect that was elegant and graceful, even at times innocent.
Six different laces were used to create the unique appliquéd motifs on the Alexander McQueen dress that Sarah Burton designed for the Duchess of Cambridge. Each type of lace displayed a different symbol of the United Kingdom: the rose of England, Scottish thistles, Welsh daffodils, and Irish shamrocks. The symbols were individually cut from the lace, and hand appliquéd onto the satin organza bodice and train by experts at the Royal School of Needlework, producing a truly stunning effect.
The influence of the dress is undeniable. It sparked a reverence for handcrafts and artistry that has been endangered in recent years, and ushered in a new era of modern elegance, with Kate Middleton leading the charge.
To read the full article, click here.