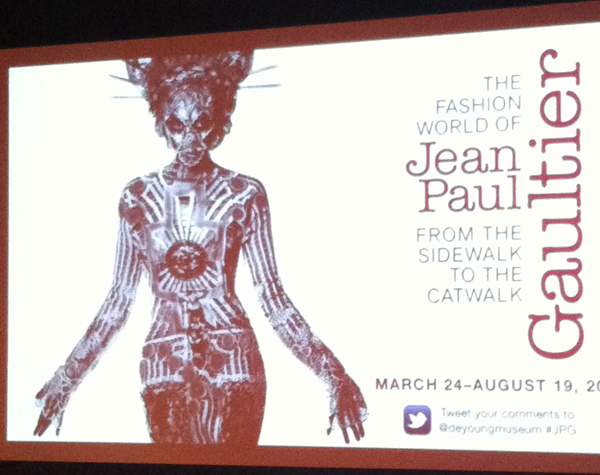 On Saturday, the De Young Museum hosted a conversation between Jean Paul Gaultier and fashion journalist Suzy Menkes, in honor of the opening of the designer's exhibit The Fashion World of Jean Paul Gaultier: From the Sidewalk to the Catwalk. "Jean Paul Gaultier is one of the funniest, most talented, wittiest, and funkiest fashion designers I know," Menkes began. The only thing we might add to the list: most charming – he really is wonderful to talk to, which we learned during his visit to the School of Fashion.
During the hour and half discussion, Suzy touched on everything from his early love of fashion inspired by the Folies Bergère, to his work with Madonna, and the business side of fashion that is seldom discussed. She was quick to point out how deserving Jean Paul was of the exhibition, saying, "I'd just like to start with something a little bit more serious. In fashion, the real reason that people last – and when it comes to Jean Paul Gaultier is probably talked about the least – is the technique, the skill, the handwork, the knowledge. Sometimes it gets buried underneath the fantasies of the clothes, but if you look hard, you will see the extraordinary craftsmanship." And it is so true – going through the exhibition, you are able to see the intense attention to detail and all of the hard work – particularly when looking at the couture gowns.
When asked about his early years, creating the corsets and dressing Madonna, Jean Paul cited his mother and grandmother as inspiration, who influenced him from a very young age. "They taught me how women were: strong, clever, human – and sometimes stronger than men. I realized very quickly that women were more interesting and maybe even more clever." And he sought to portray that through the clothing – it was not about sexualizing women, but about showing their power. He spoke of how much he enjoyed working with Madge – they had similar ideas and wanted to say the same things. He also confessed that the original cone bra was worn not by Madonna, but by his teddy bear, Nana, who had a cone bra made of newspaper, which you can see in the exhibition.
Follow the jump to read more!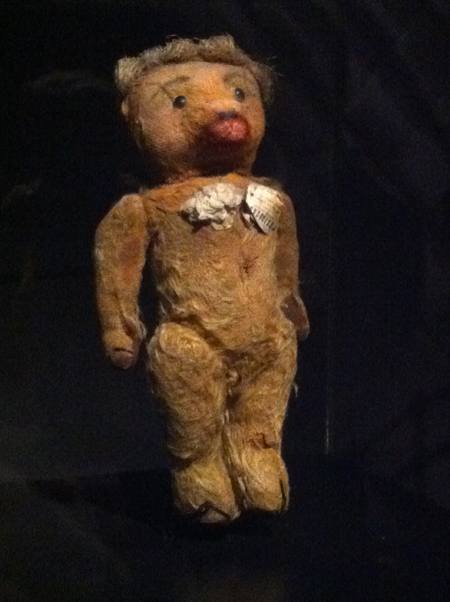 Jean Paul Gaultier's teddy bear, Nana, wearing the original cone bra.
One of the most touching stories from Jean Paul was about the passport that fashion afforded him. He had always been different from his schoolmates, but his talent for fashion allowed him to be accepted by his peers and the rest of the world. The experience of feeling like an outsider gave him a unique perspective on the world: "I have always been inspired by things that are different – maybe because I was not accepted myself," the designer said. He has been a pioneer in the fashion industry for celebrating differences, using models of different sizes, shapes, races, and genders.
Suzy Menkes also asked the designer about "the whole business of putting sexuality on the map – which was completely taboo in the 70s and early 80s." He was quick to say that he never set out to be the enfant terrible of the fashion world: "My goal was never to be scandalous – it was a reflection of what I was seeing around me." He referenced the young women of Paris from the time, Farida Khelfa being one, who would buy designer clothes at flea markets and put their own spin on them, wearing Chanel jackets over bras for a night at the clubs. "I was seeing that and thinking of the corset of my grandmother, and just going with the time – sexual liberty and freedom. Women could be strong but also show their sexuality – but it didn't mean that they were facile," the designer explained.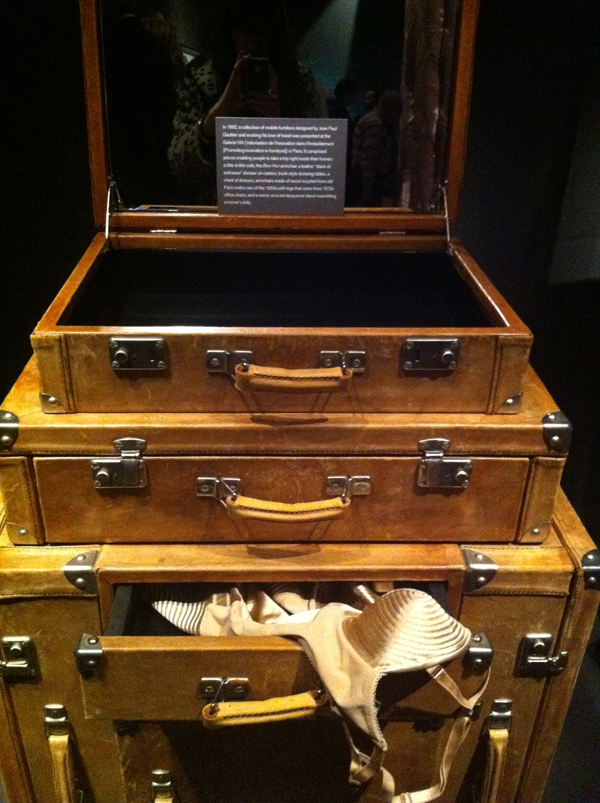 A prototype of the cone bra.
And it was not only the sexual identity of women that he thrust into the forefront, but the sexuality of men as well. "Yves Saint Laurent never had a man coming down the runway powdering his nose," Menkes quipped. Jean Paul Gaultier again cited his grandmother's influence, "I learned from my grandmother that you could show something through clothing, and I always admired Yves Saint Laurent for that. I was for equality of the sexes. If women could be strong, so the men could be feminine. The mentality of the time was changing."
Menkes also asked a few hard hitting questions, one in particular about the "vulgar business of money," specifically when it comes to his Haute Couture collections. His answer was honest, "With couture, it does not make money – but it does not lose money. And I am very proud of that." The designer presented his first couture collection in 1997, and is one of the few designers still showing today.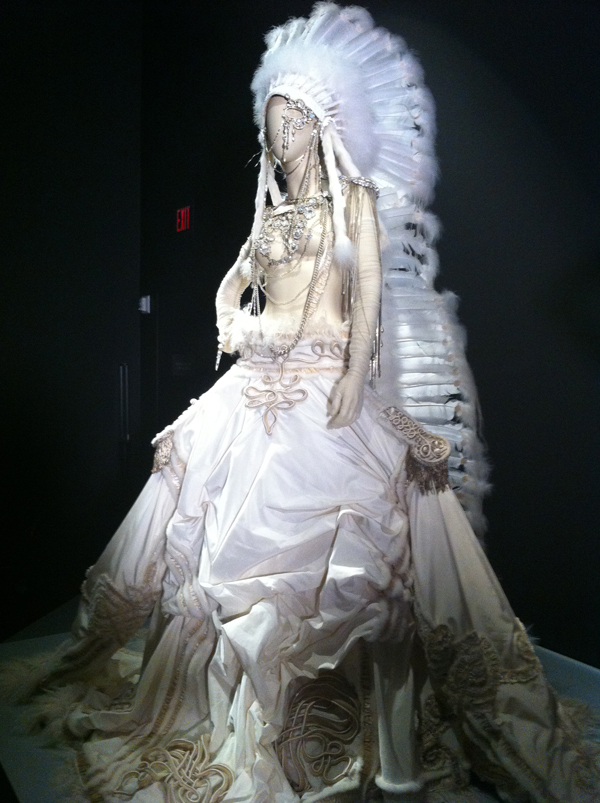 La Mariée Fall/Winter 2002 Haute Couture
At the close of the conversation, Menkes posed a challenging question to the designer: "Jean Paul Gualtier – do you believe that you have marked fashion history?" To which the designer responded, "Euuhhhh…" and laughed. "Everyone is marking fashion history in a way. I think that I am part of that – but to think that me, I marked, I don't think so. It was not my purpose," he humbly replied. But Suzy Menkes was not going to let him get away with that, "Well, I'm glad I managed to more or less silence you with my question," she teased. "I believe you have marked fashion history in the best way. You have created clothes that are a mirror to society as it changed and as it happened, and you will be known for that as much as for the beauty of the clothes."
His accomplishments both as a designer and as a force of change are evident throughout the exhibition. Standing inches from the couture gowns, you can see every bead, stitch, every detail – the hours of work put into making such beautiful, delicate creations. And the influence of Monsieur Gaultier's world, from punk and S&M to Hasidic Jews and the Virgin Mary. The Fashion World of Jean Paul Gaultier is unlike anything you've seen, and certainly should not be missed. It will be on display until August 19th, though you may want to go back a few times to take in every detail of the engaging exhibition – we know we will!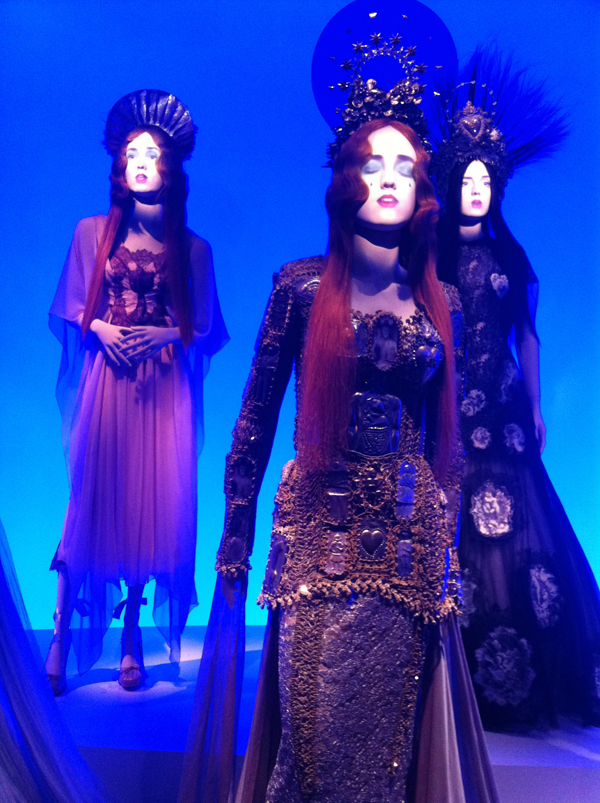 Virgins – Haute Couture Spring/Summer 2007