When it rains, it pours. Trying to keep up with Academy alumnus Kenneth Ning had Fashion School Daily team rewriting this post a few times. Ning's current industry trajectory seems to be vertical! In late March, the authoritative publication WWD featured his wool blazers in its special menswear edition. This fashion editorial was also styled with garments and accessories from Dior Homme, Tim Coppens, 3.1 Phillip Lim and Louis Vuitton. What a cool wardrobe to fit into! "After seasons of the all-encompassing ath-leisure trend, dressing up is finally making a resurgence," said the byline. It is great to see our alumni at the forefront of latest trends.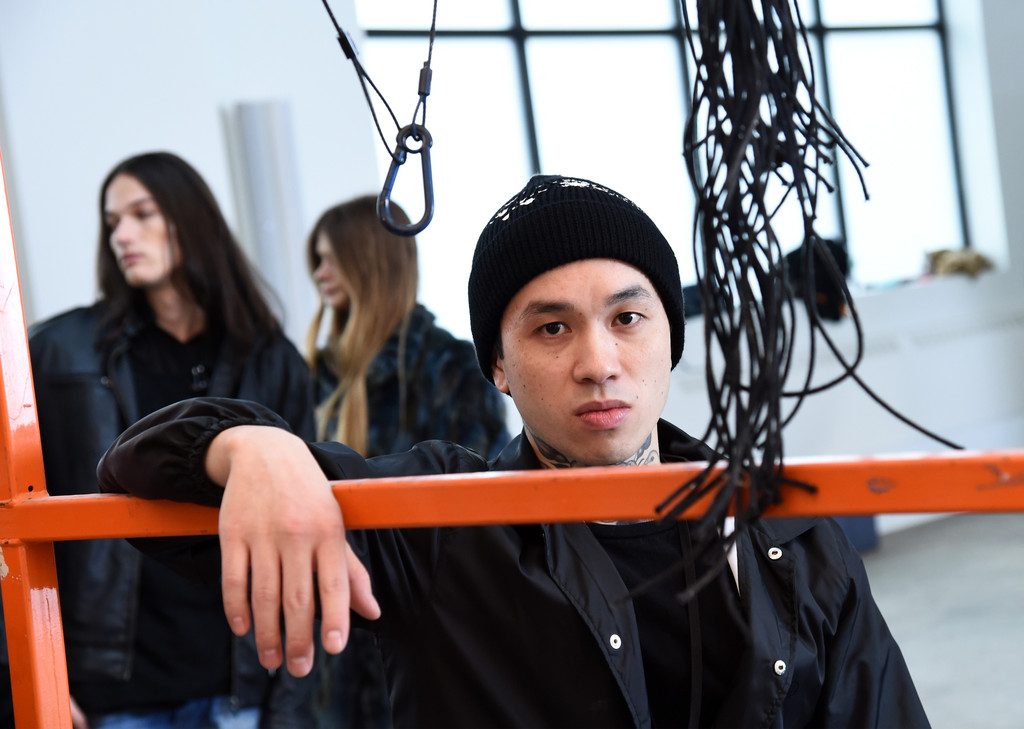 Then came the news from the board of the prestigious International Woolmark Prize. Kenneth Ning has been selected as one of five American menswear finalists for this global competition. He's now commissioned to craft a unique wool-only look to be reviewed by the jury in July! In their announcement, Woolmark's committed noted that "with a keen eye for design details and an ongoing pursuit to redefine modern luxury, Kenneth pushes the boundaries of menswear by elevating traditional silhouettes and blurring gender lines, gaining an interest from both male and female fashion aficionados." We wish the designer luck in qualifying for the next round!
Meanwhile, let's take a moment to revisit Ning's fall-winter 2017 collection presented at New York Fashion Week in February. Nivetha Sundar (MA Fashion Journalism) takes us back to the crowded Samsung 837 venue in the Meatpacking district for a glimpse into the collection that turned out to be a gamechanger for Kenneth Ning.
---
No matter how you imagine Wall Street style, it's about to be radically redefined by a fashion renegade with great tattoos and greater ideas: Kenneth Ning. He gave his audience a post-modern digital twist on the world of rare cigars and abundant hair gel. The models marched down the aisle, resembling bright yellow cabs busying through the streets of downtown Manhattan. Ning channeled Michael Douglas's character Gordon Gekko from the drama Wall Street. It was his villainous demeanor that had inspired the '80s looks bringing the slickness out of the cubicles and boardrooms into the limelight.
"In RE:INDUSTRIES, we wanted to create a collection with fun silhouettes and relevancy. We mixed in draping with deconstructed tailoring to create distorted shapes such as awkward sleeve placements and blazers that give the appearance of being hung up while on the body." Ning surprisingly stepped away from utilizing leather belts or suspenders, something one would imagine stock brokers wearing and instead displayed models strapped with webbing belts and fanny packs. The show's stylist, Haidee Findlay-Levin was responsible for the innovative twist that aligned perfectly with the youthful brand image.
[metaslider id=40878]
After his Academy graduate showcase at New York Fashion Week in 2007, Ning started working for Calvin Klein and Michael Kors. His BFA thesis collection had a "modern day soccer thug" aesthetic which continues to intrigue critics and buyers. He went on to launch his namesake brand in 2014 and things have been looking up ever since! More than upholding the stylistic traits of masculinity, Ning constantly subverts and challenges menswear industry to be more open-minded and emotionally expressive. 
Looks like 2017 is the Year of Ning! We couldn't be more proud, supportive and excited!
Collection review by Nivetha Sundar (MA Fashion Journalism)