Academy alumna Briana Kranz has become an in-demand fashion illustrator in the Bay Area. You may have seen her fabulous work at stores such as Thomas Pink, Neiman Marcus, Max & Co., and most recently, Saks Fifth Avenue. Kranz studied Graphic Design and now teaches Fashion Illustration at the School of Fashion. Fashion School Daily caught up with the artist to celebrate her success and muse about professional full circles.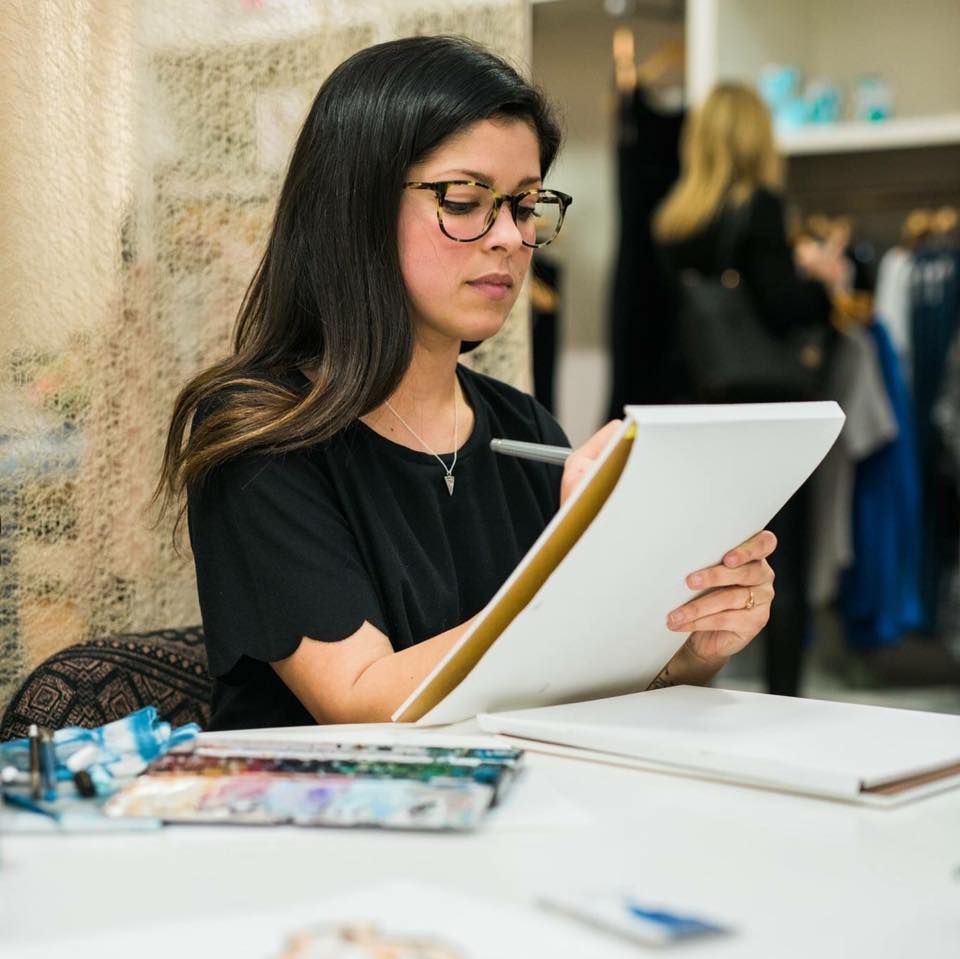 FSD: How did you get into fashion illustration?
Briana Kranz: While I always enjoyed drawing from fashion magazines, I struggled to find a creative voice throughout college. I took my first Fashion Illustration class as an elective. It wasn't until then that I realized it was a perfect fit. The mixed media, the live drawing challenge and the overall playfulness and experimentation was something that really felt right. Instructor with Carol Nunnelly played a huge part pushing me to follow my dream. She is a big reason I got as far as I have. Simon Ungless as well as the entire fashion drawing department (Dale Dombrowski, Jim Yang, Kiril Hirstov, and David Trautz) have all been great influences and a wonderful support system throughout the years.
[metaslider id=40831]
FSD: How did you get your start professionally?
BK: Word of mouth! First and foremost, large portion of my success has been thanks to networking. I cannot reiterate enough how important it is to be yourself and treat each person with kindness. You never know who will recommend you for a job! Another contributor to my success has been social media. Instagram is an essential tool for growing my business, sharing my work, and connecting with others.
[metaslider id=40838]
FSD: Do you have any advice for current students?
BK: I notice a lot of fear in students. I think it's incredibly important to embrace the concept of being uncomfortable. Don't think of something difficult as an obstacle, but as an opportunity to grow and gain experience. You should always be challenged; otherwise you aren't learning! Fear is normal. It's about getting used to pushing boundaries.
FSD: What's on your creative horizon now?
BK: I am happy to say that I continue to collaborate with the visual team at Saks Fifth Avenue. I've also been working more on providing prints of my work for sale in stores throughout the Bay Area. Last but not least, I am thrilled to have a few live drawing events booked for the year as well. It's always a great opportunity to meet people and network. We must always look ahead!
---
Courtesy of the School of Fashion
Images and sketches provided by Briana Kranz.
SFA Window photos taken by Anthony Rogers.
If you'd like to see more of Briana Kranz's work, feel free to visit her Facebook page and her Instagram page