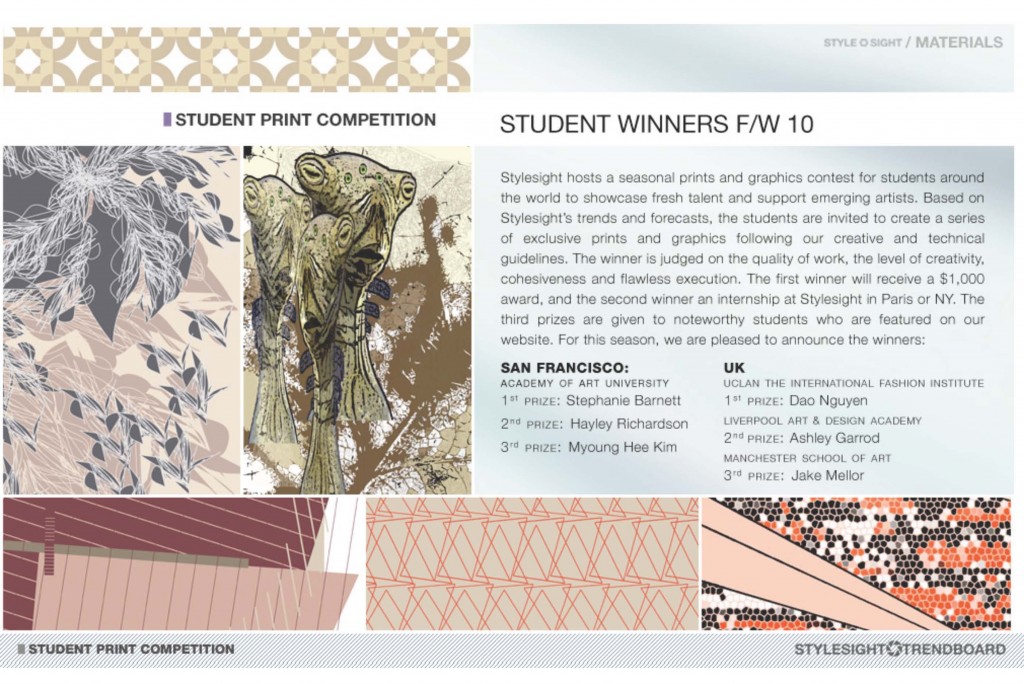 Three students recently took some prizes (three to be exact) in this year's Stylesight print competition. Stephanie Barnett, Haley Richardson and Myoung Hee Kim follow down the same path as MFA Merchandising student Belda Farika who won earlier this year.
The lead business-to-business online fashion magazine awarded $1,000 & feature page to Barnett; an internship offer in NY or Paris to Richardson and a feature page of work for Kim.
Check out the slideshow of their work:
Read more about what Stylesight said about the winners after the jump:
Stephanie Barnett (1st place) is a native of Santa Cruz, California. Following her fashion and textiles studies, she moved to San Francisco to pursue a bachelor!s degree at the Academy of Art University. As a freelance textile designer, she focuses on the relationship between the environment and the natural fabrics it produces. Barnett!s ecofriendly designs are currently showcased at Eco Citizen boutique and local yoga studios.
Haley Richardson (2nd place): Inspired by the 80s-era enthusiasm for optical graphics, Richardson's prints explode with dynamic movement in a high-contrast palette. Guided by Stylesights's F/W 10 Noise Megatrend, she developed sharp geometrics based on the principle of using black and white backgrounds, mixing small and large-scale patterns.
Originally from South Korea, Myoung Hee Kim (3rd place) is currently pursuing a bachelor!s degree in textile design at the Academy of Art University in San Francisco. Her work has been featured at Mercedes Benz Fashion Week F/W 2009 in New York and at high-end boutique, Eco Citizen in San Francisco. Kim!s inspiration comes from the power that is evoked through faceted and futuristic architecture.