School of Fashion alum and fashion design/knitwear guru, Marie Potesta was recently spotted in New York Magazine's fashion blog, The Cut that featured the collection she created with her sister Karen called Micaela Greg.
We love it when our alums get some love. Here's an excerpt from the post.
The Detroit-raised, San Francisco–based pair initially split off for college — Marie studied fine art while Karen focused on engineering — but both went back to school to pursue fashion after graduating. This fall, they launched their co-designed knitwear line, Micaela Greg, creating an edited collection of intricate, op-art-influenced clothes that combine Karen's skill in pattern-making and Marie's eye for draping.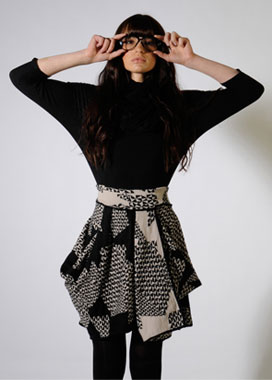 Their line of urban optical knits and fashions is currently being sold at Debut in New York and SupermarketHQ.com.
For more about their line visit www.micaelagreg.com and to read the rest of The Cut blog post, click here.